… For the different Metabolic Types
REVISED, EXPANDED and UPDATED in 2014



We are now the publisher for the College of Metabolic Medicine. No other versions of this book are sanctioned by the Kelley Estate. We offer ONLY brand new books, unlike other sources who are offering either used copies at inflated prices or are possibly printing out-of-date, unauthorized copies of older versions of the book.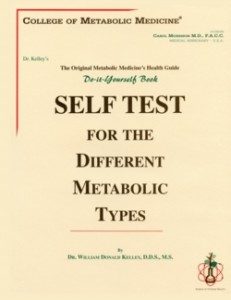 Dr. Kelley developed his Self-Test for the Different Metabolic Types in the 1960′s to help bridge the gap of research to practical application. He realized that the overall state of health of this nation could no longer be maintained acceptable unless the nutritional needs of the people were brought into immediate and sharp focus. No one (doctor or patient) knows what a well-balanced meal is. Doctors have not been trained along these disciplines, nor do they have the time or inclination to educate themselves in these areas.
We have moved Dr. Kelley's Self Test for the Different Metabolic Types directly to the Kelley web-site, which can be found HERE.
We apologize for the inconvenience.

Kettle Moraine, Ltd.
P.O. Box 579
Litchfield Park, AZ 85340
1-623-327-1778
Email: KettleMoraineLTD@cox.net