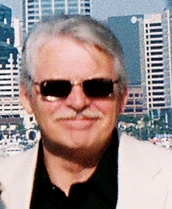 A veteran of Viet Nam, student of history (both American and film), Jeffrey Bennett has been broadcasting for over two-decades as host of numerous daily programs airing on International shortwave radio, satellite and the internet. Jeff has been considered the voice of reason on the alternative media – providing a unique and distinctive broadcast style, including topics such as your Financial, Physical, and Spiritual well-being, education, news, Federal and local legislative issues, which affect our future, political satire (with a twist), and editorial commentary on current events through the teaching of history.

Bennett's daily broadcast, "Life, Liberty & All That Jazz," can been heard Monday through Friday from 5:00 p.m. until 7:00 p.m. (ET) on The Micro Effect broadcasting network.
Jeff is also publisher and editor of The Federal Observer – a daily on-line political publication, which co-authored and spear-headed a petition, which ultimately caused new legislation to be signed by President George W. Bush within 450 days of the events that rocked our world on September 11, 2001. In addition, Bennett is the CEO of Kettle Moraine, Ltd., a production company for the daily Net-broadcast, and proprietor of Kettle Moraine Precious Metals, a precious metals firm, and it's subsidiary, The Golden IRA, a division, which specializes in IRA and retirement account conversions to that, which holds precious metals, as opposed to instruments of government issued fiat-paper. In addition, Kettle Moraine, Ltd. is also the parent of Kettle Moraine Publishing.
In December of 2012, Bennett published the first of a quintet of books offered through The Book Shelf, which acts as a map of the grand experiment known as America – as told through the words of those who first landed on the Continent from Europe, through her Founding Fathers and many who followed afterwards. The second volume was released some five weeks later. The third book in the series is currently on hold due to a series of other commitments and will be published sometime in 2017.
The BOOKS:

Kettle Moraine, Ltd.
P.O. Box 579
Litchfield Park, AZ 85340
1-623-327-1778
Email: KettleMoraineLTD@cox.net