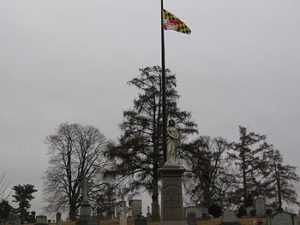 Monuments honoring heroes of the Confederate States of America, American heroes in fact, are being removed from the public square, due to a successful presentation of oversimplified arguments and lies by the same progressive Leftist Democratic apparatus that seeks to fundamentally transform America. These assaults on the Southern heritage by politically correct propagandists and arrogant activist ideologues are assaults on our American culture and heritage, or "AmeriKKKa" as the Left calls America; and, it is nothing short of a cultural cleansing campaign, a purging of the truth and history and a national disgrace. (Source)
In 2015, the Atlanta chapter of the NAACP called for the destruction of the Stone Mountain Confederate Monument, that honors Jefferson Davis, General Robert E. Lee and General Stonewall Jackson. They wanted the nearly 2000 square feet and 12 feet deep carving "sandblasted away".
In February, the city council of Charlottesville, VA sought to remove Robert E. Lee's likeness from its 100 year resting place. They have been temporarily blocked by a lawsuit filed by the Monument Fund and 29 other plaintiffs.
Soon protests arose in Charlottesville and NAACP President Rick Turner told the crowds: "I think a decision must be made to remove the statue by any means necessary."
Continue reading →