Illegal immigration is a crisis for our country. It is an open door for drugs, criminals, and potential terrorists to enter our country. It is straining our economy, adding costs to our judicial, healthcare, and education systems. ~ Timothy Murphy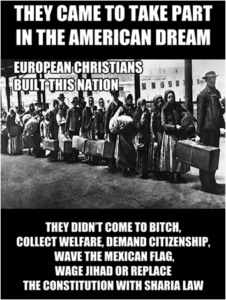 Eliminate Illegal Amnesties
As a candidate, Trump pledged to "immediately terminate President Obama's two illegal executive amnesties." So, why is our president repeatedly expressing empathy with the participants in the Deferred Action for Childhood Arrivals (DACA)?
Now he is saying to Congress, "Legalize DACA or I will revisit it." What? Supporters of Trump have already said they will exit the Trump train if he legalizes illegal aliens who broke the law. Daily Caller says Trump is allowing Dreamers to stay and even Rush Limbaugh is fine with it. Excuse me Rush, but this is screw the taxpayer again!
Illegal aliens, who are eligible for DACA needed to have entered the United States illegally before 2007 and be 15 or younger at the time of their arrival. They also had to be younger than 31 years of age when DACA was officially created in June 2012. Continue reading →