~ Foreword ~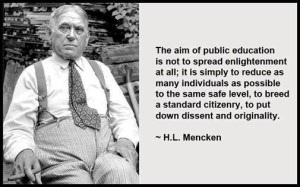 Each and every *innovative improvement* the *education guru's* have put forth has proven to downgrade real education. But then I don't think any of these new plans were ever intended to IMPROVE education – the goal being to indoctrinate not educate – and it has been more than successful.
Back when I was in grade school – the teachers dressed like teachers not another student. They didn't have sex with the students – they actually taught the students how to read – write – do math – speak properly – be self disciplined – and to THINK. Tests were given each week on what had been taught that week and if you didn't pass then you had to repeat the lessons. Students weren't passed to the next grade until they mastered the grade they were in. Oh, and the parents were kept informed of how the student was doing.
I noticed a big change take place from my grade school years to those of my children and I was more than vocal about it which the Federal Way School District didn't appreciate.
When you go to a local high school today is it easy to tell which ones are students and which ones are teachers or administrators?????
Too many look like aging PRE-K playgrounds.
Like Apples past their prime …. the *CORE* is ROTTEN. ~ Jackie Juntti Continue reading →