More On The Confederate Flag & The Civil War
Awhile back I submitted a letter to the editor containing my thoughts regarding all the recent fuss over the Confederate Battle Flag. I don't subscribe to the paper but apparently some guy in town took offense to what I said and wrote a lengthy letter rebutting what I had said. I won't copy his entire letter verbatim but I will quote one line from it to give you a general idea of what he said. In his letter he writes, "This fact, along with Lincoln's subsequent actions to end both slavery and the Confederate cancer, should be taken into consideration before you assemble your Mount Rushmore demolition team." His reference being my suggestion that the Lincoln Monument and his image on Mt. Rushmore be demolished.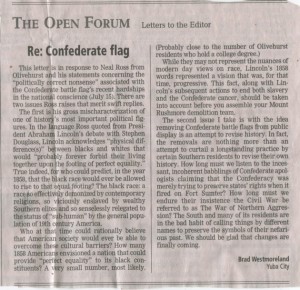 Let me begin by saying I almost feel pity upon the position that Abraham Lincoln found himself in upon being sworn in as president. Here was a man who found himself at a critical time in our nation's history, faced with the momentous decision of allowing a portion of the Union to separate and form its own country, or use force to comply it to remain a part of the Union.
The Civil War, or as I prefer to call it, The War of Northern Aggression, (or at least the War for Southern Independence), happened a century and a half ago, yet the wounds left by that bloody conflict have never entirely healed. The Confederate Battle Flag, whether you consider it right or wrong, is a symbol of those from the South, and people of like minds, who believe that the states had, and still retain, the right to secede from a voluntary pact between them and form their own system of government. This is the foundation upon which our Declaration of Independence rests. As the government itself is an entity created by that pact the States alone have to choice as to whether a State has the right to separate, the government itself has no say in the matter. Continue reading →