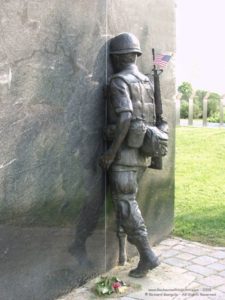 "Bill" was a combat Marine who served in the Iraq War and received multiple medals and commendations. He later suffered memory loss and PTSD, which he attributes to long-term doses of un-prescribed medications the military provided, including amphetamines.
Back home, Bill was accused by a fellow Marine of using an illegal drug, questioned without an attorney and threatened with prison before signing a confession and being handed an Other Than Honorable (OTH) discharge.
When he went to fill out benefits paperwork at a Veterans Affairs office, he was told he was ineligible because of his OTH discharge. The OTH also put a cloud over his job prospects and eventually he had to depend financially on his family to survive. After working three jobs and putting himself through school, he challenged the VA system and eventually was awarded a 60 percent disability.
Bill was one of three former soldiers cited by the authors of a study released this week by the Costs of War Project at Brown University that examines why the number of "bad paper" discharges – which result in vets being denied VA health care, education and housing support and other benefits — has grown from 5.5 percent during the Gulf War era to 6.5 percent since America went to war in Afghanistan and Iraq following the attacks on the World Trade Center and the Pentagon. Continue reading →