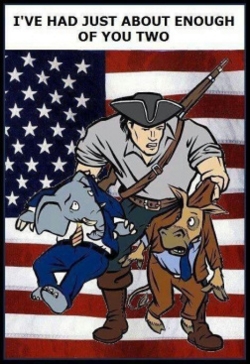 If there is one thing that has grown predictable, it is elections. No matter the political climate it seems that every few years the voters in this country watch candidates for public office spend unimaginable sums of money which leads to replacing National Socialists (R's) with Marxist Socialists (D's) or vice versa.
"A man is no less a slave because he gets to pick a new master once in a term of years." ~ Lysander Spooner
It has been most interesting this past week to read and listen to various political pundits as they explain how our government will change for the better now that the R's control both houses of Congress. Some even went so far as to speculate about the R's regaining the White House in 16.
If the Republicans were to proceed according to the beliefs of millions who unconsciously push the button or fill in the circle next to anyone with an "R" next to their name, there would be some radical changes taking place in the not so distant future. Continue reading →