Roman leaders mollified the masses by providing food handouts and violent games to enjoy. Is this happening again in America?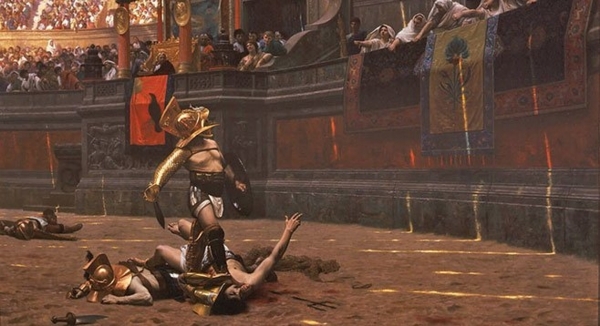 ~ Forewords ~
In direct repetition from the days of deluded Roman leaders, so too the likewise deluded U.S. imperium thinks it can mollify the masses forever.
Our day's masses seem even more sensitized to the much increased load of mind stupefying propaganda of our day. Unlike the era of Roman rulers, today the availability of truth beckons the people from everywhere, that is, everywhere they look but straight into truth's face, by choice. Like the Roman hoi polloi, so too their successors today are just as seduced by the blood sports of our age, as well as Hollywood blood and raw sex allowances…the general sense of moral relativism…. "anything goes", as long as government is left secure. After all, as the writer so well documents in the brief piece below, the mass of today is as indifferent to bankrupting themselves for superficial rewards. Anything for instant gratification for yet another day.
It will go on, until it can't….but since it's lasted since the conception of human frailty, it will go on forever, only direly limited in scope by the ultimate debt and dollar collapse–always a clear and present danger. In the meantime, who cares about under-funded pension funds, collapsing infrastructure and standards of living or the mass corruption of kids minds and the terrifying dangers of growing poverty. Give us football at any cost, free sex, deviant sex, 24-hr violence viewing and just about anything else—-and let the chips fall where they may. Government welfare/entitlement programs and soup kitchens will provide subsistence survival as long as counterfeit money is engineered— until it's no longer possible in any way. You bet government agencies are readying themselves for that fateful time of sudden release of mass anger, when it comes.
Wow, although with brevity so admirable, that's a loaded writing below. It says it all. (A.C.)  Continue reading →