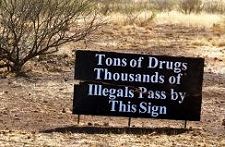 This is for those brain dead bozos known as the GANG of EIGHT, who seem too stupid to realize what they are doing to the country when it is obvious we can't absorb and sustain 30 million additional people and that is closer to the true figure than the 11 million they would have us believe.
Don't forget that if they get citizenship they will then be able to sponsor their relatives into the country and we will no longer have a country.
The Senate immigration reform bill aims to apprehend 90 percent of potential border-crossers in high-risk areas within five years after passage, but Republicans question the plan.
I question it too, THEY CAN'T HANDLE IT NOW, and five more years will see thousands upon thousands of new illegals crossing the border, and the Bozos in Cesspool D.C. want to give these lawbreakers a path to citizenship when we are having a helluva time sustaining our own population.