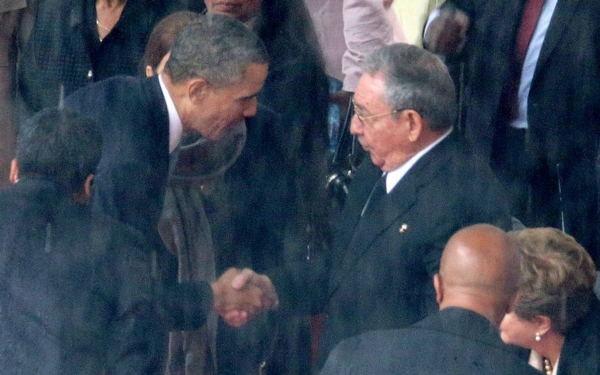 Frankly, the only ones who should have been surprised, are the Commmie/Soicialist Media that have supported this bum since he rose from the Illinois Senate on his way to Washington – first to the U.S. Senate – and ultimately by train (like Honest Abe) to the White House.
Of course, there are those who will hail B.O. (not the dog) for reaching out to Brother Raul – but did he have to bow? Oh – that's right – that is what he always does. So cordial! So polite – and almost always with that shit-eating grin on his face. He was probably asking Raul for a box of Cubano cigars (something for nothing).
In a recent column by Eli Lake on The Daily Beast, the author states, "Tuesday's greeting between Obama and Castro comes after six months of quiet diplomacy between the United States and Cuba—and Castro signaling he's ready for bigger talks."
Diplomacy? Must be why Big Obama supporters Jay-Z and his wife Beyoncé were able to take a "vacation" to Havana. Oh yeah baby – it's those BIG Hollywood types that are setting Foreign Policy!
It's just a damned shame that Obama doesn't leave Washington in the same manner as Lincoln. "Choo-choo.. choo-choo Ch'boogie…" (1946. Words and music by Vaughn Horton, Denver Darling, and Milt Gabler. Sung by Louis Jordan)
You don't have to like it and you don't have to agree. Just calling it as I see it.
Without Apology I am,