Their cynical and deceptive strategy is all about duping women voters in November.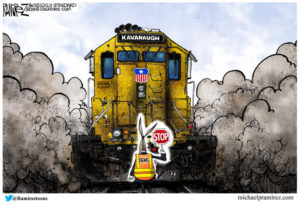 Following the Senate hearings for Supreme Court nominee Brett Kavanaugh last week, Sen. Kamala Harris (D-2020) released a heavily edited video of Kavanaugh wherein she claimed that his response to a question was "a dog whistle for going after birth control." However, Harris's allegation was so clearly manipulated and inaccurate that even the leftist Washington Post and Politifact rated her claim as false. But that didn't stop Hillary Clinton from parroting Harris's lie.
On Wednesday, Clinton wrote, "When Kavanaugh called birth control 'abortion-inducing drugs,' he made it clear that safe and legal abortion isn't the only fundamental reproductive right at grave risk if he is confirmed. Access to birth control is, too." She then added, "Imagine an America in which women are barred from getting IUDs or birth control pills, and doctors are criminalized for prescribing them. It's an America in which women would be punished for insisting on being full and equal partners in society." In other words, confirming Kavanaugh equals instituting a fictional dystopia akin to "The Handmaid's Tale." And that is exactly where both Harris and Clinton are living — fantasy land.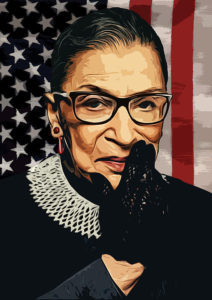 Justice Ruth Bader Ginsburg rips Kavanaugh hearings as a 'highly partisan show'
The liberal Ginsburg denounced the process, which many court observers have blasted as broken, during an event at George Washington Wednesday – on a day when Democrats who were virtually shut out of the confirmation process bombarded the nominee with 1,200 questions on issues ranging from gambling to his days as a clerk in a fruitless effort to slow down Kavanaugh's nomination… (Continue to full article)
The reality is that Kavanaugh has a supremely competent and scandal-free history, and his confirmation is essentially a given. So why are Democrats so committed to this demonstrably false narrative against him, knowing that he will be confirmed anyway? They are eyeing the midterms. This scare tactic is designed to create an issue to push women away from voting for Republicans and supporting President Donald Trump's agenda.
Recent poll numbers indicate that this scare tactic may be working. Real Clear Politics shows that Trump's job approval rating has slipped from 43.8% to 40.7% since the end of August. The prior four months had Trump with steady 43% to 44% approval ratings. This drop coincides with the Kavanaugh hearings. Democrats are seeing benefits in drawing out this confirmation process as long as possible — they've now delayed the Judiciary Committee's vote until next week. That gives them more time to churn the Kavanaugh lies in order to dupe their largest voting block, women, into believing he represents an existential and immediate threat to their standing in society. Democrats may scream about equality all day long, but no one ever accused them of playing fair.
~ MORE ~
* It's Our Constitution – Not Kavanaugh
* Character Assassination: Democrats Just Referred Judge Kavanaugh to the FBI for Investigation But Won't Say Why
Written by Thomas Gallatin and published by the Patriot Post ~ September 13, 2018
FAIR USE NOTICE: This site contains copyrighted material the use of which has not always been specifically authorized by the copyright owner. We are making such material available in our efforts to advance understanding of environmental, political, human rights, economic, democracy, scientific, and social justice issues, etc. We believe this constitutes a 'fair use' of any such copyrighted material as provided for in section 107 of the US Copyright Law. In accordance with Title 17 U. S. C. Section 107, the material on this site is distributed without profit to those who have expressed a prior interest in receiving the included information for research and educational purposes. For more information go to: http://www.law.cornell.edu/uscode/17/107.shtml