~ Foreword ~
The *solution* to this separation of parents and children is Oh So Simple.
Those *mothers* who are dragging their children over all those miles in their attempt to ILLEGALLY ENTER the USA need to STOP – Stop dragging their children up here and then they won't have to face having their children separated from them. The parties GUILTY of having the children separated sits directly on the *mothers* who bring them here.
If the TSA can separate your bottle of water or some other item from you when you plan to get on an airplane because it violates the RULES of what you can bring on the plane then why is this topic of separating children from the *adults* who try to bring them in a big deal? This is NOT a new rule or one that these *mothers* aren't aware of at the time they take that first step to head North to ILLEGALLY enter the USA. With all the child trafficking that goes on we have no proof that these children even belong to the *mothers* who are claiming them.
As I stated in one of my rants yesterday – Send all those *ENABLERS* who are training these ILLEGALS on how to CON the BP agents of wanting and needing asylum as they FEAR staying where they came from to take their programs to the native lands and teach them how to apply for entry from their home country and then WAIT for PERMISSION to come to America LEGALLY. All those who are now teaching these ILLEGALS how to CON the game need to be arrested, charged and prosecuted for aiding and abetting criminal acts.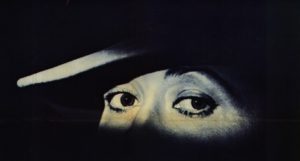 The media is doing all they can to assist this ILLEGAL INVASION with their coverage of the protests and the EMOTIONAL cries about separating families. This is a SELF INFLICTED ACT – When someone knowingly stands at the edge of a cliff and then falls over it – that is a KNOWN danger and I hold no sympathy for those who fall over the cliff.
Furthermore, as I have previously stated – if it is ASYLUM these people are seriously wanting they should have stopped in Mexico or one of the Central American countries they passed thru on their way to the USA border to seek asylum. Since they ignored that option it isn't ASYLUM they are after – it is ENTRY TO AMERICA and all the GOODIES they can get here that they can't get in Mexico or the other countries. It isn't *ASYLUM* they are seeking – it is the free goodies they have been told they can get once they get over the border.
Please send this far and wide – let's expose the real game going on and those who are pushing this EMOTIONAL CON GAME.
Jackie Juntti (Granny)
WGEN idzrus@earthlink.net 
Steve Vaus ~ We Must Take America Back
Border Patrol Chief Backs Child Separation Policy
Manuel Padilla Jr., Border Patrol chief for the Rio Grande Valley, defended separating children from parents who cross into the U.S. illegally…(Continue to full article)
Democrats Rope A Big Dope in former First Lady Laura Bush
The mysterious resurfacing of viral Internet photos of supposedly locked-up children tearfully separated from their parents­from the 2014 Barack Obama era­ even after being exposed on their timing­are still out there roping dopes…(Continue to full article)
Here's the real story on 'migrant children separated from parents'
As is usually the case, the latest Trump outrage as presented to you by the self-righteous media is not an accurate reflection of what's really going on… (Continue to full article)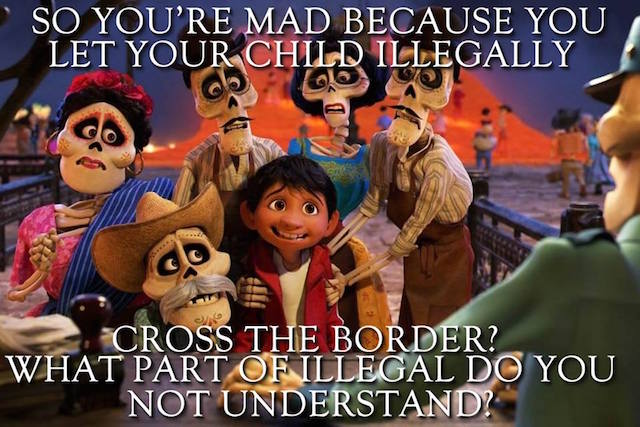 Media spins child immigrant centers as 'concentration camps'
America's mainstream media has been pushing its anti-Trump narrative that detention centers for illegal immigrant children are "concentration camps."… (Continue to full article)
Trump digs in on immigration amid family separation crisis
Facing a rising tide of outrage from Democrats and some Republicans over the forced separation of migrant children and parents at the U.S.-Mexico border, President Donald Trump dug in Monday, again blaming Democrats in the escalating political crisis… (Continue to full article)
'You're Better Than This': Dershowitz Says Trump Must Stop Family Separations at Border
He called the situation at the border a "crisis" and stressed that while Trump does not like the conditions reported at some detention centers, the law needs to be enforced… (Continue to full article)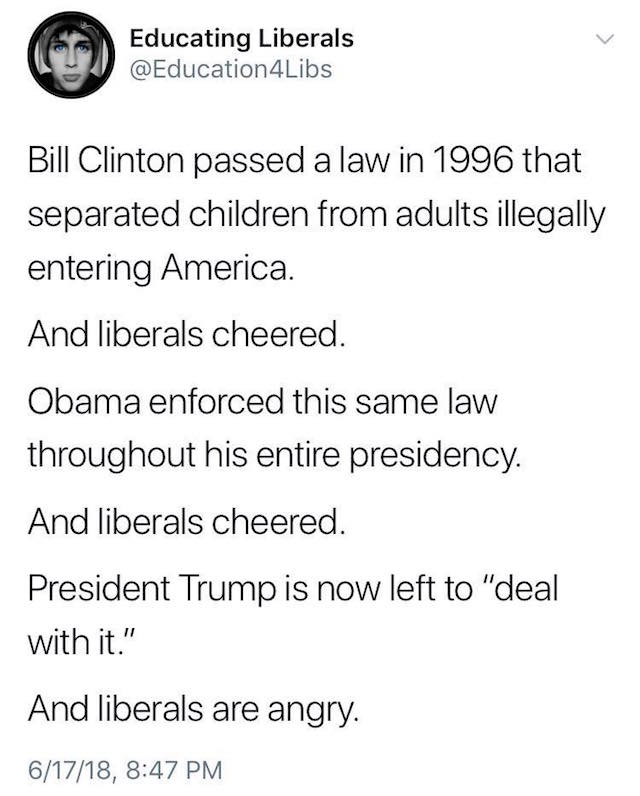 'All the Democrats' Doing'
He called the situation at the border a "crisis" and stressed that while Trump does not like the conditions reported at some detention centers, the law needs to be enforced… (Continue to full article)
Immigration Expert: Border Shelters Are a 'Big Step Up' for Most Migrants
The Department of Health and Human Services has selected a U.S. Customs and Border Protection port of entry near El Paso, Texas, as the first back-up site to temporarily house unaccompanied alien children who were apprehended by law enforcement after illegally crossing the Southwest border with or without adults… (Continue to full article)
'Be More Accurate': Border Official Slams Media for 'Crazy' Border Detention Comparison
The deputy commissioner for U.S. Customs and Border Protection (CBP) blasted the media's "crazy" description of border shelters as concentration camps… (Continue to full article)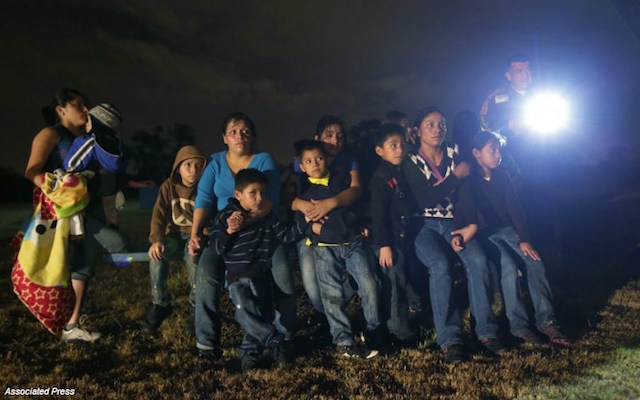 Dems Exploit Children of Illegals for Political Fodder
Appealing to emotions with false assertions, Democrats and their propaganda mouthpieces in the mainstream media have manufactured a campaign issue they seek to ride all the way to the November elections… (Continue to full article)
Why Force America To Be The World's Charity Ward?
At the end of the last year of our first "anchor baby" president, he allowed over 65,000 children to invade our borders. He watched them, in conjunction with Mexico's president, who helped that massive entourage—-stampede into our country. When not stopped by our U.S. Border Patrol at the border and turned back because of our "anchor baby" president's orders to disregard our laws, we, the American taxpayer paid for 65,000 new illegal alien children as to schooling, food, housing and medical care… (Continue to full article)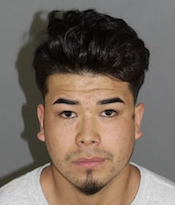 Illegal Alien from Mexico Charged with Killing 14-Year-Old Boy Riding His Bike
Police say Miguel A. Ibarra Cerda, an illegal alien from Mexico – who only speaks Spanish – was driving a blue Honda Odyssey minivan when he hit Justin, who was riding his bike to a friend's house. Cerda was driving on the wrong side of the road at the time and immediately drove off from the scene of the crash, according to police and eyewitnesses…(Continue to full article)