~ Foreword ~
There are times when a visitor to the site lands on something that has been around for awhile. The following is such a column, and was visited in the early hours of this day of republication, but it has far greater meaning than just the title of the column. Originally published on the Federal Observer – the time has come to bring it back to the forefront of the page for your consideration. It matters not who America's Presidents have been before, or since that "Day in Infamy" just over six years before my birth, nor does it matter who resides in the White House on this day – the games never seem to end. It matters not who wins or who loses in congressional nor presidential elections – it is 'We the People' who continue to lose.
Thanks for reminding us all Granny. ~ Editor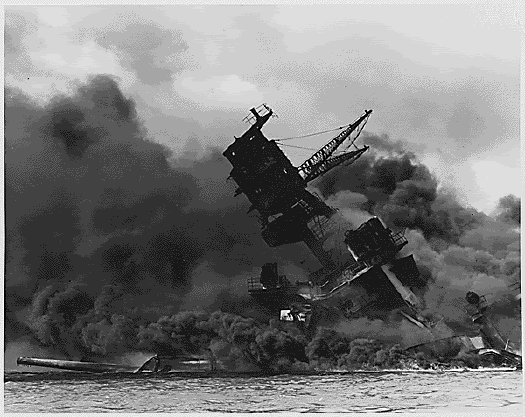 As I read the few posts reminding us of what December 7, 1941 was I am struck by a few things.  One is that on Dec. 7, 1941 we knew it was the Japanese who were bombing our men.  I am one of those who do not believe it was a *sneak* attack but one that was well known by the White House.
I do not believe it was Al Qaeda that was behind the Sept. 11, 2001 attack in New York City.  I believe, after reading many reports and opinions, that it was another of the ENEMY WITHIN operations to keep the American people in a state of FEAR of others and to make sure they do not investigate the real enemy that resides within this OCCUPATION FORCE that controls what we call our American government.
I do not believe that any other nation on this earth had or has the ability to destroy America.  This had and has to be accomplished by the ENEMY WITHIN.  That Trojan Horse filled with weapons of more than MASS destruction.  The OCCUPATION FORCE IN WDC and State capitols.
Deception at every turn, control of the media to ensure the people are fed just enough daily to keep them on edge, unable to clearly think.  Fill them with sleazy *news* of entertainers and their lives.  Create an economy that forces both parents to work so that the children are placed in the care of others, thus breaking that family bond.  Pump up inflation to devalue the dollar and increase the price of goods.  Create diseases and chemical medications to further blur the minds of those who would otherwise resist this chicanery.  Use the military as guinea pigs for medical experiments and other technological weapons  (EMP).  Keep repeating that it is Patriotic to invade another land and kill the people who live there under the pretense that they hate us and want to kill us, and that you are protecting America by doing so.  Give tax exemptions to the religious community so that the government can control what is preached from the pulpits.  Set up a government agency to APPROVE foods and drugs so that the poisons can be granted the appearances of being SAFE when the fact is they are killing those who consume them.  Set up a *Homeland Security Agency* to ensure that the borders of America are held wide open for foreign operatives to enter while Americans are sexually molested at airports, train and bus depots, as well as other locations, under the PRETENSE of it being for their SAFETY.  Place a foreign ILLEGAL in the White House and then prosecute those who refuse to comply with orders (LTC LAKIN) from that fraud Obama.  Silence one way or another all questions related to the eligibility of Obama to even be in America much less sit as the president.
How many LIES do people have to be fed before they begin to PUKE it all up and go after the ones forcing this vomit down our throats?  How many Waco's?  How Many Ruby Ridges?  How many other Occupation Force attacks on Legal, law abiding Americans do you have to stand by and watch before you rise up and fight back?  Most get far more angry over not getting cell phone bars than they do over their neighbors being attacked under the color of unconstitutional laws.  That is America Today.  A big difference from the America of Dec. 7, 1941.
Jacki Juntti (Granny)
December 10, 2010
~ The Author ~


Jacki Juntti (Granny) is a daily reader and frequent contributor to Kettle Moraine Publications. She can be reached for comment at idzrus@earthlink.net.