Turmoil, generations, and starpower in the 1956 film classic.
I have always loved, unreservedly loved, Giant —the grandly scaled and stately 1956 film that sinks us into the world of a Texas rancher and his Marylander wife through 25 years of marriage as their state, their country, their wealth, and their own hidebound attitudes undergo the same seismic financial and social changes that transformed America in the first half of the 20th century. Its radio ads declared Giant "a big story of big feelings and big things!" And so it is.
Giant is enthralling and juicy and compelling, a high-water mark in classic American moviemaking—in which a master director like George Stevens takes you by the hand, sits you down in your seat, and says, "Come along with me while I tell you a long, fascinating, bumpy story about this country." And long it is. Three hours and 21 minutes in all. (The only movie of comparable length in our time is The Return of the King, released in 2003.) Stevens said it was a "reflective film," which he called "the service we can perform as against this other visual medium television, which has to move fast and tell its story within extremely limited time."
Stevens didn't want to challenge audiences; he wanted to lure them into the movie theater. As University of Texas professor Don Graham writes in his terrific and extraordinarily juicy new book about the movie, Giant: Elizabeth Taylor, Rock Hudson, James Dean, Edna Ferber, and the Making of a Legendary American Film, Stevens "wanted to give moviegoers an entertainment and an experience that television couldn't give them, one that they wouldn't forget." This was not an uncommon notion at the time, as Giant wasn't even the longest movie of 1956. That was The Ten Commandments, which went on for another 19 minutes. Both were smash hits.
Graham's book reveals the meticulous care with which Stevens led the screenwriters, designers, and actors. He was at the time perhaps Hollywood's most prestigious director (coming off A Place in the Sun, for which he had won an Oscar, and Shane , which was all but universally viewed at the time as the greatest Western ever made) and he was unresponsive to complaints from Warner Bros. that he was going over budget and spending too much time on filming.
The production spent five weeks in Marfa, Texas, where Stevens's team built the Victorian mansion that is home to the Benedict family of Reata Ranch. The notion of expressing both the size and the odd bleakness of Texas in this way was the inspiration of the film's designer, Boris Leven. We see the newlyweds Bick (Rock Hudson) and Leslie (Elizabeth Taylor) driving across a desolate plain toward the house in the middle of nowhere; it is one of the great shots in all of film. There isn't a wrong shot in all 201 minutes—which is to say, even the ones that seem corny or trite or unsubtle are there precisely because Stevens wanted them there.
Giant is about change. The great change is from cattle ranching to oil, and it is Bick's nemesis Jett Rink (James Dean) who strikes a gusher on a tiny plot of land he's been given by Bick's sister. We flash forward two decades and Rink is the richest man in Texas and that desolate moonscape outside Reata is dotted not with cattle but with derricks.
The theme of change, the glory of it, is what marks Giant as Hollywood's greatest liberal epic—a fundamentally ideological tale in which the outsider Leslie shows up in a benighted land and spends 25 years trying to guide her traditionalist husband Bick out of his sexist, racist, and backward ways.
Indeed, both Bick and Jett Rink are basically examples of what we would today call "toxic masculinity," a fact made all the more ironic because, as Graham discusses, Hudson was gay and living a false-front life and Dean was "sometime[s] gay." Graham's depiction of their internal and personal conflicts, and the extreme self-destructiveness that led Dean to die in a car crash before Giant was completed, give his book surprising weight.
The difference between 1956 wokeness and 2018 wokeness is that Leslie succeeds in her reform project by degrees and watches with pride as her husband loses a violent fight with a diner owner who refuses to serve Mexicans. Stevens brought to the wonderful Giant a fundamentally optimistic view of American life that his successors in woketude would do well to emulate.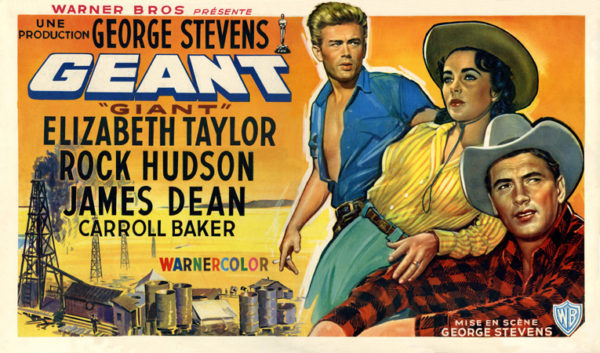 Written by John Podhoretz and published by The Weekly Standard ~ April 20, 2018.
FAIR USE NOTICE: This site contains copyrighted material the use of which has not always been specifically authorized by the copyright owner. We are making such material available in our efforts to advance understanding of environmental, political, human rights, economic, democracy, scientific, and social justice issues, etc. We believe this constitutes a 'fair use' of any such copyrighted material as provided for in section 107 of the US Copyright Law. In accordance with Title 17 U. S. C. Section 107, the material on this site is distributed without profit to those who have expressed a prior interest in receiving the included information for research and educational purposes. For more information go to: http://www.law.cornell.edu/uscode/17/107.shtml