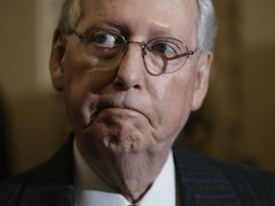 This Swamp BASS TURD needs to be removed – he and his wife can live off the Chinese $$$ they get.
McConnell is no friend of AMERICANS – The only attention he pays to us if how much he can suck off our tax dollars. Cleaning out the Swamp means going after every stinking RINO… (it is a given that the Dems need to be retired to some country that governs like they are trying to make America).
Cut the SPENDING of all congressional pensions and see how that gets their attention.
Jackie Juntti
WGEN idzrus@earthlink.net
McConnell Kills Trump's Plan to Cut $60 Billion in Spending
McConnell (R, KY) has torpedoed President Donald Trump's plan to cut $60 billion in federal spending, despite a promise to open a "discussion" on the cuts.
Even after supporting and passing a $1.3 trillion increase in spending, McConnell said he would talk about a rescissions package that had the support of the president. However, McConnell has ultimately refused to support the plan, Conservative Review noted.
McConnell appeared on Fox News with host Neil Cavuto on April 17 and as the interview ended, the Sen. insisted that he could not make such an agreement to rescind any of the massive spending he supported during the budgeting process.
Cavuto noted that President Trump expressed shock that his cuts in spending were not added to the bill and said he would never sign such a bill again. The Fox host then asked if McConnell would try to rescind any of that spending.
But the majority leader said that he already brokered an agreement with the Democrats and that train has left the station. "You can't make an agreement one month and say, 'OK, we really didn't mean it,'" McConnell said of a move to cut spending.
McConnell also took pains to remind Cavuto that "Trump supported his spending bill and signed it into law. He and his people were involved in the negotiations, they agreed to it, and he signed the bill."
"We had an agreement with the Democrats," the Kentuckian added.
The majority leader and his supporters maintained that the spending bill was a must pass because it contained the much-needed budget for the military. But as CR's Chris Pandolfo noted, that excuse does not factor into any move to rescind some of the budgeted spending because the military budget is now already set in motion.
Perhaps the main reason why a bill to realize Trump's spending cuts will not advance in the U.S. Senate is because Mitch McConnell does not want to support spending cuts, Pandolfo said.
Editor's NOTE: My response to Granny was: There is only one way to DRAIN the Swamp…. Have Trump redirect some of those missiles that he has directed be used in Syria.
"Nuke 'em, Danno!"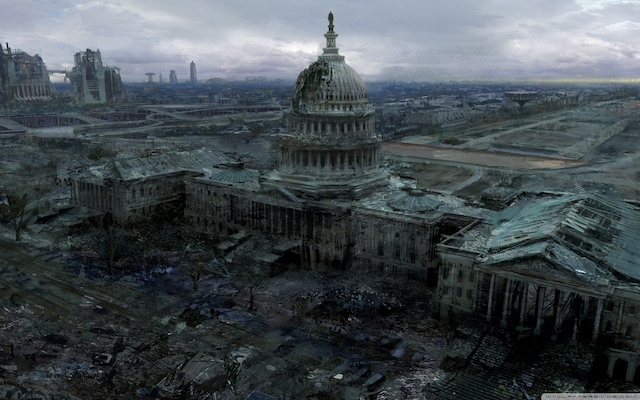 Written by Warner Todd Huston and published by Breitbart ~ April 19, 2018.
FAIR USE NOTICE: This site contains copyrighted material the use of which has not always been specifically authorized by the copyright owner. We are making such material available in our efforts to advance understanding of environmental, political, human rights, economic, democracy, scientific, and social justice issues, etc. We believe this constitutes a 'fair use' of any such copyrighted material as provided for in section 107 of the US Copyright Law. In accordance with Title 17 U. S. C. Section 107, the material on this site is distributed without profit to those who have expressed a prior interest in receiving the included information for research and educational purposes. For more information go to: http://www.law.cornell.edu/uscode/17/107.shtml