Warning

: Contains language which may be found offensive. ~ Neal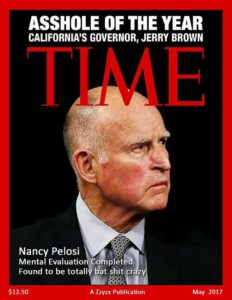 Governor Brown,
I was born in this State in 1958, and aside from the 13 yrs I spent serving my country in the Air Force I have lived here all of my life. I want to tell you something: If I didn't own a home I would pack up everything that was of any value to me, load it in my truck, and leave this State forever; for it has gone to hell. As it is half the time I'm torn between doing that and setting my home ablaze as I leave; that's how much I despise living in the place anymore.
It's not that the land itself does not still have its charms, it does. Rather, it is the extreme liberal idiocy that I encounter almost everywhere I go, and the idiotic policies coming out of Sacramento that I hate so much. Excuse me for the crude language, but what the fuck happened to you people; when did you stop representing America and American citizens and start representing the citizens of countries who have come to America illegally?
For the longest time I thought you lawmakers, and this goes for the ass clowns in Washington D.C. as well, simply just didn't give a damn about the Constitution. Now I'm beginning to wonder if you're just simply as ignorant as the average high school graduate who knows absolutely nothing about that document.
You do know that the Constitution established our federal government, right? You do know that it was by consent of the States in existence in 1789 that it was ratified, right? And hopefully you know that one of the conditions for a State to be admitted into the Union was that they accept federal authority where it was lawfully exercised; as per the specific powers enumerated in Article 1, Section 8.
You are aware that Article 1, Section 8, Clause 4 states that it is the authority of the federal government to establish an uniform rule of naturalization, and that the States are required to adhere to federal immigration law, right?
So what gives you the authority to sign a bill which makes California an official Sanctuary State in violation of federal law? What gives your Attorney General, Xavier Becerra, the right to threaten to imprison employers and private citizens who seek to assist ICE agents in the enforcement of one of the few laws our federal government actually has the authority to enact?
I'm sure you have heard of the Yes California initiative that seeks to declare California's independence from the Union and free itself from the laws coming out of Washington D.C. which Californians feel go against their core values. Are you seeking to hasten this by having the federal government boot California out of the Union itself? I say this because if I were President Trump, that's exactly what I'd do; no matter the illegality of it and what a bunch of District Court Judges tried to tell me.
In fact, I have been giving this a great deal of thought of late, and if I were President Trump I would send you a formal letter stating the following:
Governor Brown,
In light of California's steadfast refusal to assist ICE in the enforcement of federal immigration laws, I am forced to take the following measures, effective in 30 days unless California rescinds its Sanctuary State status and begins cooperating fully with ICE in the enforcement of federal immigration laws.
Whereas, California accepted the Constitution and the government it established upon her admission to the Union, and whereas California lawmakers, and to a lesser extent, the citizens of California have decided that the welfare of criminal aliens are of more importance than are federal laws…
I do hereby decree that California is no longer a member of the Union and your representatives in Congress have 10 days to vacate their offices and forfeit their seats;
And whereas California is no longer a member of the Union, the following will go into effect immediately:
The United Stated Coast Guard will no longer provide protection for California's 840 miles of coastline
All highways going into and coming out of California will have border patrol checkpoints established and no California resident will be allowed entry into the United States without a visa; no matter if they have family members who reside in the United States;
All air travel from California which flies over U.S. airspace will be considered an act of war and shot down;
As California is no longer a member of the Union it no longer requires the protection of the United States military. Therefore all U.S. military bases in California will be closed and the troops withdrawn to locations within the remaining 49 States. (I hope your economy doesn't suffer too much from the loss of revenue these bases provide to your local communities)
Furthermore, as California is now a foreign nation, the United States will no longer purchase military hardware or hire contractors from any company located within its borders. Again, I hope this does not harm your economy too much.
From this point forward, as California is no longer represented by the federal government, if there should be a major natural disaster in California, the federal government WILL NOT provide emergency assistance and FEMA will not come to her rescue. Should this occur I suggest you seek aid from President Nieto of Mexico, as it is clear you care more about the people of his country than you do the laws of the United States.
And finally, as California is no longer a member of the Union, all federal funds flowing out of the U.S. Treasury into California will cease; and this includes Social Security and Medicare payments, as those programs were established for U.S. citizens.
A grace period of 30 days will be offered after the implementation of these measures which will allow those Californians who disagree with the liberal policies coming out of Sacramento to settle their affairs and leave the former State. However, for acceptance into any of the remaining 49 States they must swear that they will never again show any loyalty to their former home; including refraining from sending any funds to family members who may have chosen to remain in California. California made its bed now let it sleep in it.
I truly hope that California flourishes as an independent nation without the burdensome laws we have enacted with hurt your precious liberal sensibilities. But if it doesn't, don't come crawling back on your hands and knees begging forgiveness from the United States, for there will be no forgiveness forthcoming.
Sincerely…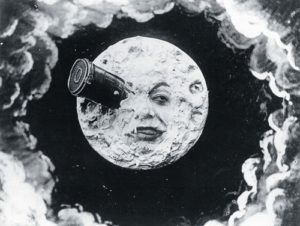 That's what I'd say if I were President Trump. And if you can't tell, I'm pretty damned upset with the concern you show for criminals who violate our laws and come to this country illegally; some of whom are guilty of bringing crime and drugs into this country; such as Jose Zarate, an illegal alien who had been deported five times in the past before he finally killed Kate Steinle. Not to mention Luis Enrique Monroy Bracamontes, another illegal alien who, in court, derided the police officer he killed and said he wished he'd killed more. And let us not forget that now you idiots in Sacramento want to provide these people the right to vote; which is a right which belongs ONLY to citizens.
If these people are the ones you care more about than you do the actual citizens of your State, then I'm ashamed to call myself a Californian and the day I am able to retire and get the hell out of this fucked up State can't come fast enough.
Have a pleasant day,
Neal Ross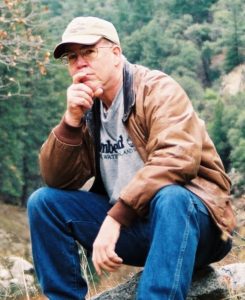 ~ The Author ~
Neal Ross, Student of history, politics, patriot and staunch supporter of the 2nd Amendment. Send all comments to: bonsai@syix.com.
If you liked Neal's latest column, maybe you'll like his latest booklet: The Civil War: (The Truth You Have Not Been Told) AND don't forget to pick up your copy of ROSS: Unmasked – An Angry American Speaks Out – and stay tuned – Neal has a new, greatly expanded book coming soon dealing with the harsh truths about the so-called American Civil War of 1861-1865. Life continues to expand for this prolific writer and guardian of TRUE American history.