Blaming Republicans for starving kids is not working in 2018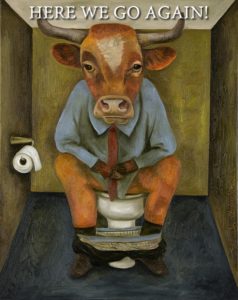 Democrats in the House and Senate thought they would play the old government-shutdown card that has worked for them every time it has been played since 1995 when Republicans were blamed.
But 2018 is different. It is backfiring.
It's no longer Republicans starving children and forcing old people to eat dog food. This time, Democrats are being blamed for refusing to fund the U.S. military as a means of aiding illegal aliens.
That's the way it is being successfully explained by the Trump administration – and it's resonating.
Here's how White House Press Secretary Sarah Sanders explained it: "The President's position is clear: we will not negotiate on the status of unlawful immigrants while Sen. (Chuck) Schumer and the Democrats hold the government for millions of Americans and our troops hostage."
Trump sent the same message.
"Great to see how hard Republicans are fighting for our Military and Safety at the Border," Trump tweeted. "The Dems just want illegal immigrants to pour into our nation unchecked."
Earlier, he went to Twitter with this message: "Democrats are holding our Military hostage over their desire to have unchecked illegal immigration. Can't let that happen!"
This government shutdown is actually being called "The Schumer Shutdown," and that is not good for the Democrats. Even a report in the Hill Sunday characterized the it this way: "The Schumer shutdown has revealed the totality of the Democrats' agenda: animosity and amnesty."
A column by Tommy Hicks Jr., went on to say: "The Schumer shutdown is a preview of what we can expect should the Democrats wrest control of the legislative branch in November. It's no laughing matter."
Ironically, during the 2013 government shutdown, Schumer said on ABC News his party would never orchestrate one to push for immigration-reform measures. (The FULL version)
Meanwhile, there could be another vote in the U.S. Senate as early as 1 a.m. Monday to approve a continuing resolution that could end the shutdown. Both Republican moderates and Democratic leaders are pushing for it tout suite. Perhaps they see the handwriting on the wall. The strategy is not working.
But Republicans don't need to negotiate. They actually hold all the cards. They could simply end the Senate rule requiring 60 votes to pass a budget. That's called the "nuclear option," and it would allow Republicans to pass any spending plan, even a full budget, with 51 votes.
Vice President Mike Pence is in the Middle East this weekend where he talked to U.S. military personnel about the shutdown. Soldiers and airmen are concerned about losing their next paycheck if the shutdown continues this week.
"I'm sure you're all aware of what's going on in Washington D.C.," Pence told the soldiers. "Despite bipartisan support for a budget resolution, a minority in the Senate has decided to play politics with military pay. But you deserve better. You and your families shouldn't have to worry for one minute about whether you're going to get paid because you serve in the uniform of the United States. So know this: Your president, your vice president and the American people are not going to put up with it."
Applause broke out among the soldiers.
"We're going to demand that they reopen the government," the vice president continued. "In fact, we're not going to reopen negotiations on illegal immigration until they reopen the government and give you, our soldiers, and your families the benefits and wages you've earned."
Another burst of applause erupted.
"Because each of you will do whatever it takes to defend our country, just know that President Trump and I will do whatever it takes to defend you and your families," said Pence. "That said, you can be confident we're going to get this fixed. We're going to meet our obligations to you and your families, and we're going to make the strongest fighting force in the history of the world stronger still. So I urge you: On behalf of your commander-in-chief, set aside any distractions, mind your mission, take care of one another and never doubt that every day, every operation, every decision that you make matters to your country more than you will ever know."
Written for and published at World Net Daily ~ January 21, 2018.
FAIR USE NOTICE: This site contains copyrighted material the use of which has not always been specifically authorized by the copyright owner. We are making such material available in our efforts to advance understanding of environmental, political, human rights, economic, democracy, scientific, and social justice issues, etc. We believe this constitutes a 'fair use' of any such copyrighted material as provided for in section 107 of the US Copyright Law. In accordance with Title 17 U. S. C. Section 107, the material on this site is distributed without profit to those who have expressed a prior interest in receiving the included information for research and educational purposes. For more information go to: http://www.law.cornell.edu/uscode/17/107.shtml