Hands Trump his biggest win yet!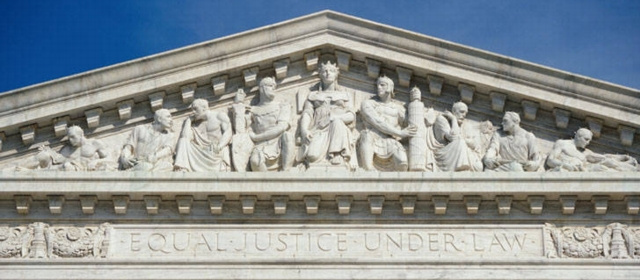 Trump's travel ban has been hated by liberals since day one. First of all, it isn't really a "travel ban". It started off as a temporary moratorium on immigration from a handful of countries that the Obama administration deemed as potential threats to our national security. It was perfectly reasonable and David French wrote a great piece explaining that reality.
Sadly, activist judges have done everything they can to stop Trump's efforts to keep us safe.
On Monday, those activist judges suffered a defeat courtesy of the Supreme Court.
Here's what just went down.
From Breitbart:
President Donald Trump's travel ban executive order is once again to largely go back into effect after the Supreme Court of the United States stayed two lower courts' injunctions Monday.
The orders come in response to filings by the Department of Justice Friday asking the Supreme Court to stay the preliminary injunctions in the two main travel ban cases, Hawaii v. Trump in the Ninth Circuit and International Refugee Assistance Project v. Trump in the Fourth Circuit. These cases have been proceeding up and down the federal court system for months.
The district courts, especially that of Barack Obama-appointed District of Hawaii Judge Derrick Watson, have repeatedly ruled that the bans must be blocked from going into effect or must, in the interim, be interpreted in such a way as to have little effect on the list of mostly Muslim majority countries from which travel is prohibited under the orders.
Here's more.
From CNBC:
The Supreme Court is allowing the Trump administration to fully enforce a ban on travel to the United States by residents of six mostly Muslim countries.
The justices, with two dissenting votes, said Monday that the policy can take full effect even as legal challenges against it make their way through the courts. The action suggests the high court could uphold the latest version of the ban that Trump announced in September.
The ban applies to travelers from Chad, Iran, Libya, Somalia, Syria and Yemen. Lower courts had said people from those nations with a claim of a "bona fide" relationship with someone in the United States could not be kept out of the country. Grandparents, cousins and other relatives were among those courts said could not be excluded.
Justices Ruth Bader Ginsburg and Sonia Sotomayor would have left the lower court orders in place.
Great news for the American people and great news for President Trump.
It's hard to believe that there are so many people out there who are willing to blindly smear Trump as a racist simply for wanting to tighten up the immigration process. You don't have a right to come here. We should be 100% positive that every person who wants to come here is coming here with the best of intentions. If there is any doubt about that it's critical to reevaluate that process. Trump's executive order is just good common sense.
Props to the Supreme Court on this one.
Written by Andrew Mark Miller and Published by the American News Hub ~ December 4, 2017.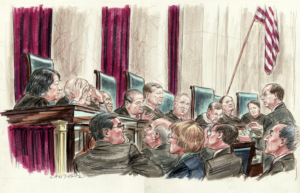 FAIR USE NOTICE: This site contains copyrighted material the use of which has not always been specifically authorized by the copyright owner. We are making such material available in our efforts to advance understanding of environmental, political, human rights, economic, democracy, scientific, and social justice issues, etc. We believe this constitutes a 'fair use' of any such copyrighted material as provided for in section 107 of the US Copyright Law. In accordance with Title 17 U. S. C. Section 107, the material on this site is distributed without profit to those who have expressed a prior interest in receiving the included information for research and educational purposes. For more information go to: http://www.law.cornell.edu/uscode/17/107.shtml