Editor's Note: The following was originally submitted for publication on November 7, 2011 and published on the now defunct, No Stinking Amnesty website. We republish it now for you consideration on November 7, 2017.
Thanks for your service John. (Ed.)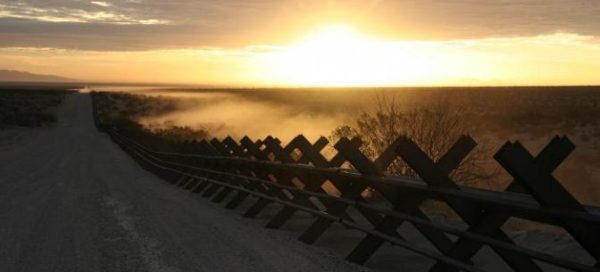 As one of many who has served this nation for the past three decades as an agent with the United States Border Patrol, my partners and I have seen times when illegal immigration was not a major problem. In the early 1970's the manpower of the U.S.B.P. was 2,000 on both the Northern and Southern Borders. Under congressional authority, Immigration and Nationality Act, we could question anyone as to their right to be or remain in the United States. This extended to all foreign visitors, immigrants from any nation in the world. The United States, similar to all civilized countries established immigration laws to protect citizens as well as legal immigrants.
Our immigration laws required an inspection, passport and approved visa for legal entries. A person admitted would go through a process that established a clean police record, true name, place of birth, intention of entry, destination, health record, and sponsors if needed. Aliens with communicable or contagious diseases were excluded as well as criminals or the mentally insane.
Health issues is a very important part of the admission process. In Lubbock, Texas, 1972, while checking employees at a meat packing company, we found 8 illegal aliens with exposure to active T.B. The plant was shut down by the Texas Department of Health. This was one of many cases.
Prior to 1986, the U.S.B.P. in every sector had agents who worked line watch, city patrol, industry checks, employee verification,transportation check points and farm and ranch checks. There were always illegal entries from other nations, mostly from Mexico but there was no political will drawing them to the states. Most were dirt poor seeking work in agriculture where many were exploited on farms. The big scam was "work an illegal alien for several months then call the patrol. This didn't work out very well because we insisted the workers would be paid for their labor. Fair is fair.
Working the onion fields of Presidio, Texas on the Rio Grande, I believe we arrested half the population of Ojinaga, Chihuahua in harvest season. Most we knew by names, and faces; they were not going inland and returned back home across the railroad bridge each night. "La Ley es la ley, mismo en Mexico" they said, "THE LAW IS THE LAW, THE SAME IN MEXICO'. We treated every one fairly and had no major problems other than bandidos and drug smugglers who traded shots across the line with us. Human smugglers were mostly unorganized, hit and miss runs.
Mexico has very strict immigration laws, a U.S. Citizen could cross the border without documents for a visit or shopping, but if the citizen planned to travel, a Mexican Permisso was needed. Without the document, the U.S. Citizen could be arrested as an illegal alien. If a U.S. Citizen worked in Mexico, he needed government authorization to do so or would be arrested and jailed.
In short, the immigration and nationality laws of Mexico are very similar to our own INA codes. Every police agency in Mexico can be called upon to enforce immigration laws when directed by the Bureau of Emigracion. Narcotics laws, homicide, crimes involving moral issues are the same standards politician's dislike stateside. The Ted Kennedy's open borders crowd in D.C. has been trying to dismantle our national immigration laws for years and the republicans seem to be on the same page.
The 1986 IRCA Amnesty for 2.7 million fraud filled Special Agricultural worker applications was total insanity. There was not enough Special Agents to work employer sanctions or investigate massive fraud. Anyone who had worked 90 days in agriculture was eligible. All that was required was a rancher or farmer that attested Jose or Pablo worked at his place. One gentleman who owned a house with a small back yard had signed forms for over 300 S.A.W. workers. This was repeated across the nation from illegal alien taxi drivers in the Bronx to factory workers in California. The 1986 Amnesty never ended but provided extensions and policy changes well into the 1990s and beyond. The first business on politician's mind was the systematic closing of many interior border patrol stations that had been effective. Phoenix, Arizona was closed which now allows the sanctuary city to become the human trafficking hub of the nation complete with gangs involved in extortion, murder, kidnapping and rape.
By political policy, the U.S. Border Patrol has been ordered to cease operations in 2011 at transportation centers including bus depots. Immigration and Customs Enforcement Officers, ICE have no confidence in the director or DHS Secretary Napolitano. The deportation of aliens appears to be on hold in the United States of America. Perhaps she has not read the reports regarding the arrests of Special Interest Aliens at the border or criminal classes that have been arrested. These include child-molestors, M-S 13 gang-bangers, murderers, wanted felons, etc. The borders are secure and thousands of people in Mexico are not being shot by drug cartel members . Possible hard core terrorist factions would not dare cross our borders or take a bus inland.
The biggest draw for illegal aliens from any nation that enters the U.S. is the official political welcome. In events in history from the El Salvadorian Civil War, the Mariel Cuban boat-lift to the 1986 Amnesty, the flood gates were opened. Both political parties are responsible for the immigration mess as well as the drug cartel violence.
When President George Bush hinted at another amnesty, guest worker program by stating that "anyone who can cross the Rio Grande is welcome" lost support of those of us who have tried to enforce the laws set by Congress. Many of my partners have been killed in action since the 1986 Fiasco which makes another "FREE FOR ALL" very personal.
© 2011 John W. Slagle – All Rights Reserved

~ The Author ~
John Slagle, has been a long-time reader and frequent contributor to The Federal Observer, and spent over 32 years defending this nation and was on duty September 11, 2001 at HQ Intelligence. After retirement in 2002, returning to his home in Arizona, the borders were over-run with illegals, death was an everyday occurrence, the Mexican Military was escorting narcotics shipments and shooting at our Border Patrol Agents. When Park Ranger Kris Eggle was murdered in an international incident involving Mexican Hit men, narcotics smugglers at Lukeville and politicians with the exception of Colorado Congressman Tancredo – ignored the problem. The same situation existed with mainstream media. Even a load of illegal aliens whose vehicle was riddled with Mexican military machine gun fire was not worthy of attention.
Like many people, he tried to contact elected officials on the problems, and received standard form replies in return. Finally, he had enough and wrote ILLEGAL ENTRIES which is now published and shows three decades on the Borders, and how politicians have created the problems in illegal immigration from 1972 to 2004. Like many of his partners, some who were killed enforcing immigration laws, Amnesty for lawbreakers is a "kick in the face" to our honored dead. As a longtime conservative, he will not vote or support any elected official whose interests are not for U.S. Citizens or lawfully admitted resident aliens.