Twenty-one cities, many of them sanctuary cities, have pledged to make 1 million immigrants American citizens by the end of 2017.
The "Naturalize NOW!" campaign, which includes liberal and progressive groups and elected officials, is aimed at preventing illegal immigrants from deportation under the Trump administration.
President Trump is not against legal immigration, but has promised to crack down on illegal residency in the U.S., especially of criminals.
The initiative heralded the mayors of the cities in joining the national effort.
The cities include: Atlanta, GA; Boston, MA; Cleveland, OH; Charlotte, NC; Chicago, IL; Dallas, TX; Dayton, OH; Jersey City, NJ; Knoxville, TN; Los Angeles, CA; Miami, FL; Miami-Dade County, FL; Montgomery County, MD; Paterson, NJ; Pittsburgh, PA; New York City, NY; Salt Lake County, UT; San Francisco, CA; Seattle; South Gate, CA & Tucson, AZ.
Many are sanctuary cities and counties.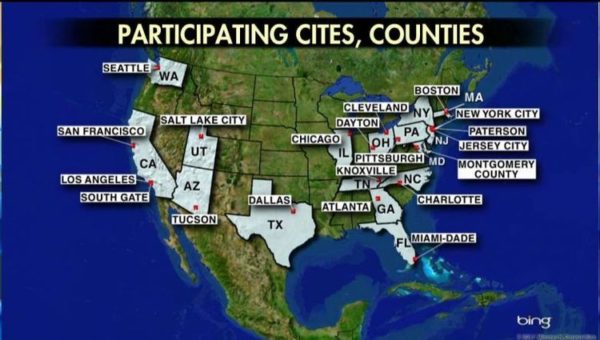 Mayor Eric Garcetti of Los Angeles and other progressive elected officials have joined in the path to citizenship effort.
"We celebrate our independence on July 4, and honor the values of freedom, justice, unity, and equality that make us who we are," Garcetti said.
According to Naturalize NOW!, more immigrants than ever have applied for U.S. citizenship, a spike coming at a time when the Trump administration is warning all illegal immigrants about deportation.
Mi Familia reports, "The campaign announced on Flag Day that a record-breaking number of aspiring Americans have submitted citizenship applications in 2017, making the second quarter of this year busier than 2016, a federal election year. The Naturalize NOW! campaign is halfway through accomplishing the target goal, with over half a million people submitting applications through the first half of this year."
The House of Representatives passed two immigration bills June 29, "Kate's Law" and the No Sanctuary for Criminals Act. The bills exact harsher penalties on those who reenter after being deported and put pressure on local governments to cooperate with feds on immigration enforcement.
Written for and published by The Federalist Papers Project ~ July 9, 2017.
FAIR USE NOTICE: This site contains copyrighted material the use of which has not always been specifically authorized by the copyright owner. We are making such material available in our efforts to advance understanding of environmental, political, human rights, economic, democracy, scientific, and social justice issues, etc. We believe this constitutes a 'fair use' of any such copyrighted material as provided for in section 107 of the US Copyright Law. In accordance with Title 17 U. S. C. Section 107, the material on this site is distributed without profit to those who have expressed a prior interest in receiving the included information for research and educational purposes. For more information go to: http://www.law.cornell.edu/uscode/17/107.shtml