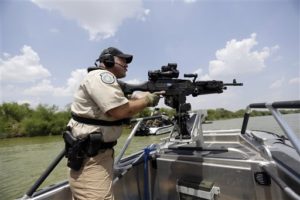 Our Border Patrol Agents need to have the latest type of weapons available to DEFEND & PROTECT America from the invading hoards. If we don't provide them with the BEST in weapons – along with order to shoot anyone who illegally crosses our border. This is not a SECRET that foreigners think they can just walk in without going thru the LEGAL ways to enter America. They KNOW they are breaking our laws – they just hope they don't get caught – or if they do they will be taken to some place – be fed and given a place to live until the exiting laws on such are ignored as they have been under Obama. We need to ENFORCE THE LAW – not pat the ILLEGALS on the head and tell them we won't spank them – we will set them up with welfare, education in THEIR language – and free medical – drivers license and maybe even a car to drive without insurance. They can then claim to be here legally and next – bring the rest of their families in to live here – all paid for by the American taxpayers.
IMHO – we don't need a solid wall – what we need is a firing line – aimed SOUTH and activated at anyone who dares to cross that border line any place outside of the LEGAL ENTRY POINTS… with the legal paperwork to enter America.
Pres. Trump is now saying that no welfare for the ILLEGALS for five years. When people from Europe were coming to America in the 1950's they had to have a financially sound SPONSOR who would GUARANTEE those immigrants would NOT become public charges. I know because I had a friend who was a refugee from Croatia in 1952 – could not speak English – but the Sponsor that brought them (her and her young son) to America hired her to be their house-cleaner and they learned English on their own. The young son learned to speak English by himself while attending school and he then taught his mother to speak English. After 5 years or so the mother met another refugee who immigrated in the same way and they got married and moved out West where they both got jobs and never once took one cent of taxpayer money. They bought a house and became productive and contributing citizens – without any tax funds involved at all.
RELATED: U.S. Border Agents Warned of 'Open Warfare' with 'Grenades' in Mexico at Texas Border
There used to be rules about being able to speak and understand at least 3rd grade ENGLISH before given permission to come to America as an immigrant. Now taxpayers foot the bill for ESL classes – for translators when they end up in court – for printed paperwork to be in so many languages so that no foreigner has to be unaware of what is going on. If they want to live here then they MUST assimilate – Speak at least 3rd grade English and no more printed ballots – traffic tickets – translators and all the rest that goes with these ILLEGALS and other foreigners who think Americans OWE THEM A BETTER LIFE without them doing anything to create a better life under our laws. Come in LEGALLY or be subject to the above consequences. Once that word gets out the number of ILLEGALS will go WAAAAAY Down.
Note to SPLC – don't bother doing another hit piece on my attitude – we know what you are and it isn't anything any of us care about.
~ The Author ~


Jackie Juntti (Granny) is a daily reader and frequent contributor to Kettle Moraine Publications. She can be reached for comment at idzrus@earthlink.net.