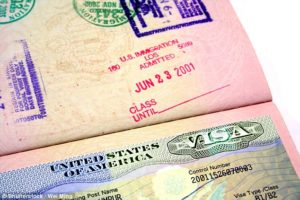 The Trump administration will now ask US visa applicants for their social media handles and accounts before they are permitted to enter the country, it was reported on Friday.
The State Department will now require anyone applying for a visa to hand over social media identities used during the past five years in addition to their travel history from the previous 15 years, Fox News reported.
Applicants will also have to provide sources of funding they received for those trips. It remains unclear when the new policy will be put into practice.
The new policy is in line with the State Department's intention to institute procedures that would 'more rigorously' evaluate visa applicants in order to rule out those with ties to terrorism.
'Collecting additional information from visa applicants whose circumstances suggest a need for further scrutiny will strengthen our process for vetting these applicants and confirming their identity,' a State Department official told Fox News.
'We estimate these changes would affect only a fraction of one per cent of the more than 13 million annual visa applicants worldwide.'
Visa applicants will also have to divulge phone numbers and email addresses used during the last five years; their address and employment history from the last 15 years; names and dates of birth for all children, current and former spouses, and siblings; and all former and current passport numbers.
The new questionnaire is designed to provide 'the best information possible,' according to the Department of Homeland Security.
'We're continuing to seek better information sharing and better processes with all countries to get a better sense on who these people are who would enter the country,' a DHS official said.
'We're trying to have the best information possible from countries to identify the client and understand the background of people who want to do us harm.'
President Donald Trump came into office after vowing his during campaign to impose 'extreme vetting' on would-be immigrants.
Trump signed two executive orders aiming to curb migration from a number of Muslim-majority countries.
Those executive orders were both struck down by federal courts.
The Trump administration this week asked the Supreme Court to reinstate the ban.
Governments have expressed concern in recent years over the role of social media in providing a platform for the spread of extremism.
In the wake of last month's terrorist attack in Manchester, British Prime Minister Theresa May was reportedly infuriated by the feet-dragging of technology firms whose outlets host sick videos, provide a platform for hate preachers and allow the circulation of terror manuals.
Last month, a federal judge dismissed two lawsuits seeking to hold Facebook liable for supporting terrorist groups by letting them use its social media platform to further their goals, including violence against Jews.
US District Judge Nicholas Garaufis in Brooklyn dismissed a $3billion damages lawsuit by relatives of American victims of Hamas attacks, saying the federal Communications Decency Act regulating internet content immunizes Facebook from liability.
That law 'prevents courts from entertaining civil actions that seek to impose liability on defendants like Facebook for allowing third parties to post offensive or harmful content or failing to remove such content once posted,' Garaufis wrote.
Garaufis also dismissed a lawsuit by roughly 20,000 Israeli citizens who feared harm from future violence.
He said they had no legal right to demand changes to Facebook's platform because they could not show any 'actual or imminent' injury.
The decision is a setback to efforts to hold companies such as Facebook and Twitter liable for failing to better police users' online speech.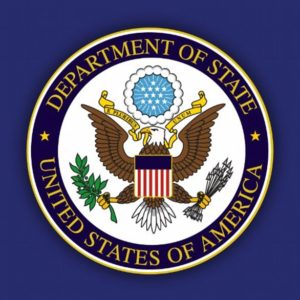 The Trump administration approved a new questionnaire for US visa applicants that seeks expanded personal information, including social media activities as well as extensive travel, residential, and employment history.
Faiz Shakir, American Civil Liberties Union national political director, had the following reaction: 'The invasive questionnaire for U.S. visa applicants is another front in the Trump administration's attack on immigrants and communities of color.
'The government has added these questions without clarity as to when or to whom they will apply, which will likely result in discriminatory profiling and inconsistent and ineffective results.
'The government provides no parameters for social media vetting, raising concerns about the privacy and free speech rights of US citizens and residents.
'The government provided the public with little to no information and without an adequate opportunity to comment on a vetting practice that will impact people in the United States and around the world.'
Written by Ariel Silber and published by the Daily Mail ~ June 3, 2017.
FAIR USE NOTICE: This site contains copyrighted material the use of which has not always been specifically authorized by the copyright owner. We are making such material available in our efforts to advance understanding of environmental, political, human rights, economic, democracy, scientific, and social justice issues, etc. We believe this constitutes a 'fair use' of any such copyrighted material as provided for in section 107 of the US Copyright Law. In accordance with Title 17 U. S. C. Section 107, the material on this site is distributed without profit to those who have expressed a prior interest in receiving the included information for research and educational purposes. For more information go to: http://www.law.cornell.edu/uscode/17/107.shtml