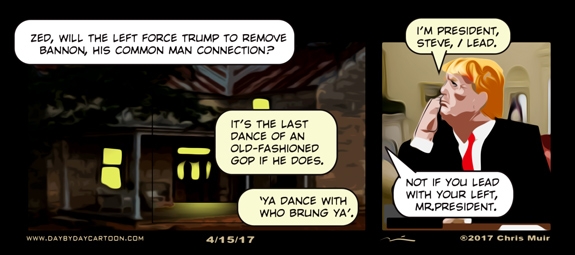 I sent the following message to President Trump, this morning, at https://www.whitehouse.gov/contact….
I'm reading about things, at places like the Washington Times, Newsbusters, American Spectator, The Daily Caller and Breitbart – my news sources of choice – that I find concerning: an apparent about face, by your Administration, on the Import/Export Bank, NATO, China manipulation of currency, auditing the federal reserve, getting rid of Yellen, even DACA.
Then there was the 59 Tomahawk missiles lobbed into Syria after your stating we would no longer be the policemen of the world.
Americans, across this nation, who supported you, during your campaign, are watching you closely. They are concerned. They are hearing that your chief strategist, Steve Bannon, is on his way out. If he goes, you are going to lose a great deal of support. They see your son-in-law, Jared Kushner and Gary Cohn as problems, not Steve Bannon. They are concerned about your daughter, Ivanka, having an office in the West Wing.
Millions are watching, President Trump. Our nation hangs in the balance. You are our last hope. If you abandon America, the only thing we have left is revolt. That is not a pleasant specter.
Lynn M. Finney
President Trump said he wanted the American people to hold him accountable. That requires we participate. Please consider letting President Trump know your thoughts.
Lynn
© April 2017 – Lynn M. Finney – All Rights Reserved.
Submitted for publication to the Federal Observer by the author.
~ About the Author ~


Lynn M. Finney: Activist and researcher, has spent the last twenty years researching systems theory and systems philosophy with a particular emphasis on education as it pertains to achieving the sustainable global environment. She home schooled two daughters. She has worked with legislators, both state and federal, on issues pertaining to systems governance, the sustainable global environment and education reform. She networks nationwide with other researchers and a growing body of citizens concerned about the transformation of our nation from a Constitutional Republic to a participatory democracy. She has traveled the United States and lived overseas. Email her at fancy.free@comcast.net