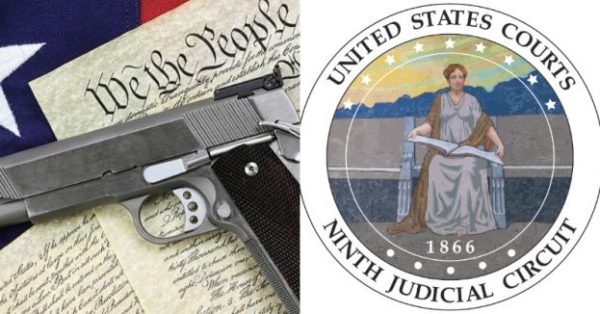 The 9th Circuit Court is at it again, showing that they are, as most of us are well aware, a leftist activist court for which the Constitution means nothing. The nutty ninth overturned the ruling of a lower court which found that a cooling off period after the lawful purchase of a firearm was an infringement on the Second Amendment.
Apparently the 9th Circuit sees the Second Amendment and the pesky Constitution as cumbersome impediments in their crusade to overhaul the United States in their leftist image.
Bearing Arms reported:
The 9th U.S. Circuit Court of Appeals has overturned a lower-court decision that would have struck down a 10-day waiting period for certain firearm purchases. The lower-court decision would have allowed existing gun owners and people with concealed-weapons permits to immediately take possession of a lawfully purchased firearm.
The judgement is yet another chapter in an ongoing battle between pro-gun Californians and their anti-gun elected officials. The 10-day waiting period issue began with Silvester v. Harris, a case litigated in 2014 by The Calguns Foundation (CGF) in the U.S. District Court. The Court agreed the waiting period violated the Second Amendment rights of individuals who successfully pass the standard background check and who are in lawful possession of an additional firearm, possess a Certificate of Eligibility, or have a CCW.
U.S. District Judge Anthony Ishii said in his 2014 ruling that the state's goal of implementing a cooling-off period to prevent impulsive acts of violence will not deter those who already own a gun. As reported by BearingArms.com, in the most recent ruling, 9th Circuit Judge Mary Schroeder contradicted Ishii saying someone who already owns a hunting rifle may want to buy a larger-capacity weapon that will do more damage when fired into a crowd.
"A 10-day cooling-off period would serve to discourage such conduct and would impose no serious burden on the core Second Amendment right of defense of the home," Schroeder said.
An en banc (full court) review of the ruling has since been sought by attorneys for CGF, Second Amendment Foundation, and two individual plaintiffs via a petition sent to the Ninth Circuit Court of Appeals.
According to the petitioners, California's so-called cooling off period violates the Second Amendment. One of the plaintiffs petitioning the court, CGF Executive Director Brandon Combs, released a statement:
In December, the Ninth Circuit Court of Appeals bizarrely ruled that even a person legally carrying a concealed handgun as he buys another gun at retail needs to be 'cooled off' for another 10 days before exercising his Second Amendment rights and taking possession of a constitutionally-protected firearm. We believe that the Ninth Circuit's panel opinion was wrong as a matter of law. Not only did the panel incorrectly decide the Second Amendment issues in favor of the State of California, but in doing so it ignored important legal rules that govern the review of a lower court's judgment after a trial.
Thankfully people are fighting back against these disturbing violations of the Second Amendment that the left has pushed in an effort to disarm the public.
Instead of going full bore after the Second Amendment, the left has decided to take on the ability of American citizens to exercise that right rendering it moot.
Any American that values their constitutional rights should be very concerned by this war waged by the left against our rights and fortunately, there are those willing to take on the shameful 9th Circuit Court and their disturbing use of the bench to assault our rights.
Written by C.E. Dyer for and published on The Federalist Papers ~ February 14, 2017.
FAIR USE NOTICE: This site contains copyrighted material the use of which has not always been specifically authorized by the copyright owner. We are making such material available in our efforts to advance understanding of environmental, political, human rights, economic, democracy, scientific, and social justice issues, etc. We believe this constitutes a 'fair use' of any such copyrighted material as provided for in section 107 of the US Copyright Law. In accordance with Title 17 U. S. C. Section 107, the material on this site is distributed without profit to those who have expressed a prior interest in receiving the included information for research and educational purposes. For more information go to: http://www.law.cornell.edu/uscode/17/107.shtml