But NOT for your dining and entertainment pleasure!
"To know your Enemy, you must become your Enemy." ~ Sun Tzu
I have always read the above quote with this thought – If I want to defeat my enemy then I must study how they fight me and use that against them. When I was 10 years old and my folks moved us to Hawaiian Gardens, CA – it was an area that was filling with newly arrived Mexican families. I soon became the subject of being beat up by the Mexican kids. My mother would tell me that she didn't want to ever see me *start* a fight but I wasn't to *run away* from one started against me. It didn't take long for me even at that age to decide that getting beat up wasn't any fun and I had to learn how to beat them at their own games. It took me some time to begin to put some *wins* in my corner and then I learned how to use a switch blade knife as that was the weapon they seemed to like. Little by little I reached the point of being the one they left alone.
I told you that in order to say that Christians need to pay attention to these many lawsuits the Sodomites and Lesbians use against the Christian businesses – and they have succeeded in most all of them. Study how these ABOMINATIONS (what God calls them) target Christian businesses so they can then SUE and collect many $$$ as well as putting the Christian out of business – thus losing their livelihood.
It isn't as though the Soddies and Lezzies don't have these same businesses operated by their type but they want to SUE and collect $$$ so they find Christians to do this to.
What Christians need to do or those who agree with the Christian stand is to seek out these Soddie/Lezzie businesses and turn the table. A Soddie/Lezzie bakery can be asked to provide a cake with all Christian sayings and scripture verses. Make it SO glaring that these Soddie/Lezzie's will refuse – result – ground for a lawsuit. Turn their crooked tables right back on them. It isn't rocket science – but Christians don't like to fight the ENEMY and so they get run over. STUDY THEIR M.O. and then use it to defeat them.
This goes for all the excuses the Soddie/Lezzie groups use to sue and silence the Christian message or belief. Go on the OFFENSE rather than being on the DEFENSE. ~ Jackie Juntti (Granny)
The Rainbow Mafia Claims Another Victim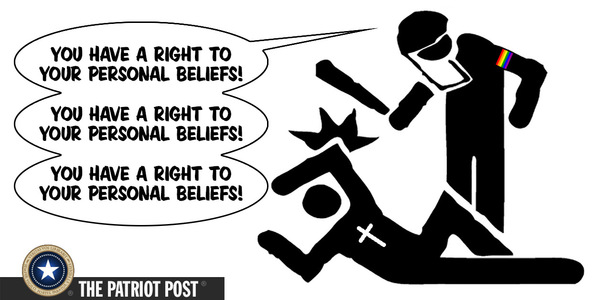 A ruling against TimberCreek Bed & Breakfast for refusing to host a same-sex wedding was upheld by a three-member panel of the Illinois Human Rights Commission by its refusal to hear an appeal of the original ruling. In 2011, Jim Walder, owner of TimberCreek, refused to host a same-sex couple's wedding on religious-conviction grounds. Walder is a devout Christian and stated, "We will never host same-sex civil unions. We will never host same-sex weddings even if they become legal in Illinois."
A same-sex couple evidentially took umbrage and sued Walden for discrimination. (That is the modus operandi for the Rainbow Mafia.) This past March, the couple won and the state ordered Walden to pay $30,000 for causing "emotional distress" plus another $50,000 in attorney fees. Walden argued, "In our opinion, forcing a small business with one employee to host gay marriage which violates the owners sincerely-held Biblical belief that marriage is between one man and one woman is an extreme circumstance, especially when marriage has been understood for thousands of years to be a union between one man and one woman."
Once again the freedom for sexual deviancy trumps an individual's First Amendment rights… (Read complete story)