What goes around – comes around – all over again. The following missive by Granny was published by the Federal Observer on August 12, 2012. It's time has come again. Remember… ~ J.B.

I spent a restless night last night – thoughts of how far down the sewage tank this nation has gone – thinking of how polluted this nation has become and how the perverts – the Sodomites – the Lesbians – the child molesters – have infected this nation and so many in it How wicked – vile – deceitful – degenerate – depraved – Like Nineveh, like Rome – sin fills the air and open rebellion against God is everywhere.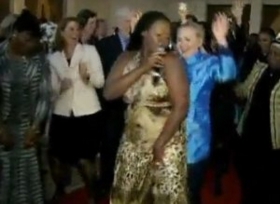 I figure it was that video that was on every newscast last night – running like a political commercial – of Hillary Clinton humping that fat Black woman in South Africa. Is that one of the *duties* of the office of Secretary of State? Remember all those *rumors* of how she and B.J. dated the same women in college? The other *rumors* of her Lesbian traits which are again making the news in many ways – like her big drinking party in Columbia. She is more like the Sex a tarry of Mistakes. Look at the Snappy Nappy news that came out yesterday of her and her Lesbian tribe – much like that of Janet Reno and Donna Shalala. Many complain about the Barney Franks but the females are no different. And let us not forget Edgar J. Hoover.
Remember when foreigners called America the GREAT SATAN? Many, including myself, thought that was wrong – America was a CHRISTIAN nation – how could they call us the Great Satan? Well, thanks to the Deception of MSM we have not until recently seen the FACTS about this nation and those we allowed to take it over.
Stop and take a good look at how the Sodomites and Lesbians and Child molesters have taken over everything in this land. They used to HIDE from discovery but little by little they entered into the halls of education, government, the churches, and the military. They preached their gospel of SIN and corruption and Deception and the message sunk in to those who slept thru the obvious message. They presented it as an ALTERNATIVE way of life – not clearly stating that that 'ALTERNATIVE' was ETERNAL SPIRITUAL DEATH. They passed laws to make it a crime for true Christians to speak out against them – calling it a HATE CRIME and that OFFENDED them.
Christians are to stand in silence while the perverts and the rest of Satan's deceivers quickly move forward to destroy all that is left of True Believers in Jesus Christ.
Every time one of us spends our money to see a movie, watch a film on tv, buy products of those corporations who pander to the Sodomites and Lesbians, we are acting in direct disobedience to God's Word. We are financing that which we say we disagree with. We are supplying our own spiritual death sentence.
If watching Hillary Clinton perform her sinful acts isn't enough to make you PUKE then something is missing in your life. All who stood by in silence while B.J. Clinton and his Monica and the stained blue dress stained the office of the Presidency should stand up and shout – I AGREE WITH SIN! By your silence and votes you are telling God that you condone sin and all it stains.
If you are attending one of the many churches that allows the perversion of the pulpit with the preaching of Sodomy as being acceptable then YOU are siding with Satan. If you have a Lesbian or Sodomite or Child Molester occupying any office in your church then you are condoning SIN. There is no halfway on this, folks, no center line or fence to straddle – you are either a Believer in Christ or you aren't. Those are the only two choices we have on this earth. And not one of us has any say when we shall breath our last breath so better make that choice before it is too late.
Our government offices are filled with those who are working overtime to destroy what was created as a CHRISTIAN nation. Look at the lies – the deception (all tools of Satan himself, the Father of Lies and Deception) – that no longer is hidden – it is right out there in the open and the courts and media protect and defend it as if that was the right way to live. They not only protect and defend sin as being how to live but they pound it into the faces of everyone day in and day out. They have used the public school system to make sure that our children find nothing wrong in two mommies or two daddies or grade schoolers learning how to put on condoms or how to have anal sex or how to get an abortion.
Look at the media attention to the perverts and out of wedlock children by those whose only claim to fame is being able to read scripts and ACT. Look at the magazines at the store that splash the Brad Pitt and his whore on their covers. Look at the adulation for George Clooney and for Lohan. Look at the miscarriage of Justice for those who do right in their lives. Look at how the media, the police and the courts handle those who attempt to stand against the sinful actions.
Matt 7:13 Enter ye in at the strait gate: for wide is the gate, and broad is the way, that leadeth to destruction, and many there be which go in thereat:
Matt 7:14 Because strait is the gate, and narrow is the way, which leadeth unto life, and few there be that find it.
REV. 19:20 And the beast was taken, and with him the false prophet that wrought miracles before him, with which he deceived them that had received the mark of the beast, and them that worshipped his image. These both were cast alive into a lake of fire burning with brimstone.
REV. 21:8 But the fearful, and unbelieving, and the abominable, and murderers, and whoremongers, and sorcerers, and idolaters, and all liars, shall have their part in the lake which burneth with fire and brimstone: which is the second death.
If you have read this far then you have done more than I expected most to do. I can only tell you that each INDIVIDUAL must make that CHANGE in their hearts and in their spirit or they shall find themselves in that lake of fire. John 3:3 – Jesus answered and said unto him, Verily, verily, I say unto thee, Except a man be born again, he cannot see the kingdom of God. That is the ONLY way to spend eternity with God. Ye must be born again. That does not mean you attend a certain denominational church or roll a string of beads in your hand or attend Sunday and Wednesday service. This is a SPIRITUAL CHANGE in your life – one that God sees and acknowledges. You can dress up and pretend to be a Christian but it is what is in your HEART and how you LIVE this life that God sees. When you stand before the Great Judgement Throne all the dress up acts will do you no good – your TRUE Spirit is then exposed before the Throne and you shall be given the Judgement that gives you entrance to Heaven or to the Lake of Fire.
The choice is yours and only yours – no one can make that change or decision for you. You can turn your back on the Hillary dances and those of her ilk or you can humble yourself and turn to God. What you decide to do and what you then live your life doing will not make any change in my life. I will not suffer or gain by what you choose so this isn't to gain any riches on my part – I tell these things to you so that you can GAIN and spend eternity in Heaven and not in the Lake of Fire. I write these things because I care about you. Those who promote the sinful life do not care about you – not one whit.
Those who produce and act out the sinful ways are after your money and your very soul. They are asking you to pay for your own eternal death by watching their filth and violence on film – be that film movies or news casts.
Luke 6:45 – A good man out of the good treasure of his heart bringeth forth that which is good; and an evil man out of the evil treasure of his heart bringeth forth that which is evil: for of the abundance of the heart his mouth speaketh.
Read that verse again and then think of what you are telling folks is in YOUR heart.
I pray for each of you to make that eternal choice of your life and that you do it soon for time is running out. The evil that is running wild on this earth is getting more wicked each hour and Satan thinks he is close to victory – failing to know he is nearing his end.
August 12, 2012
~ The Author ~


Jackie Juntti (Granny) is a daily reader and frequent contributor to the Federal Observer. She can be reached for comment at idzrus@earthlink.net.