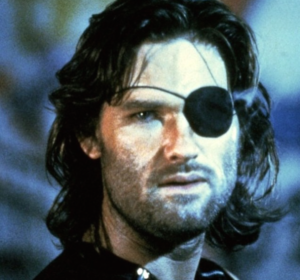 As you may have noticed – updates have been few and far between lately – other than the occasional political statement made through images. Well – I've got myself into another fine mess as I am doing clean-up, some minor repair work, landscaping and painting at my daughter's home before we put it on the market.
Seems like we have been here before. My old team of Craig and Riley are working with me on this project as well – but it won't be a long one. Should be done in about 4 to six weeks – then I am off to Calee-fornicate and Morro Bay for a week on an annual retreat with two friends from the Jungles of '68 to '70.
So why the pic of Snake with the eye patch? Apparently I damaged my dominant eye by using my smaller, traveling laptop for the past week. It felt somewhat swollen and painful to the point of general discomfort. Sometime during the night on Saturday, I must have rubbed it in my sleep – which exacerbated the situation and I awoke with a huge purple mark just off of my nose. Scared the hell out of me and the doc says that I need to not use it too much for the next few days – kind of stay off of the computer. I brought the Big Mac from the office – and I can SEE the damned thing – but still want to be careful for a few more days. Then we'll get back to work.
Until then – just tune in to Life, Liberty & All That Jazz – won't-cha? And I'll TRY to be there everyday this week – but no promises. Life happens.
Oh – and one more thing. On Saturday (May 7th) I stopped by my old home to see Armando and his wife and to bring them a bottle of wine to celebrate. It was the one year anniversary of the day I closed the door for the last time on MY home and turned it over to some marvelous people. They have maintained my dream, decorated it beautifully and expanded upon my original plans.
See you at Sundown.
Without Apology I am,