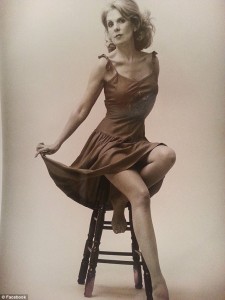 A beauty queen who claims she was Bill Clinton's mistress has posted a dramatic warning on Facebook that if she dies by 'suicide' no-one should believe it – because Hillary had previously 'beat me down so I'd lose everything'.
Sally Miller, a one-time Miss Arkansas, warned that she believed she could be killed for revealing what she said were threats and intimidation by Clinton allies concerned that their methods would be revealed to voters.
Dramatic warning from Clinton 'mistress' who claims Hillary's associates harassed her over 1980s affair with Bill. Pageant queen went public in 1994 with claims of 1983 affair with then- Gov. Bill Clinton. She says she has been threatened and intimidated by Clinton allies for years. Sally Miller went public with a Facebook post on Saturday warning that she could be killed.

Remember

: This Bitch will stop at nothing to get back into the White House. BEWARE!