A spike in unaccompanied Central American minors crossing illegally into the United States has seen more than 10,000 cross the U.S.-Mexico border in the last two months.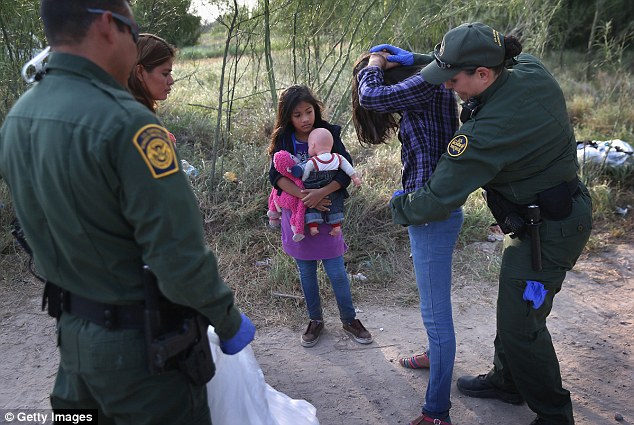 A total of 10,588 unaccompanied children crossed the border in October and November – more than double the 5,129 who crossed during the same two months last year, according to the U.S. Border Patrol.
Meanwhile, the number of family members crossing together has nearly tripled to 12,505.
Last year, changes were implemented that included deploying 150 additional Border Patrol agents to the Rio Grande Valley, where the most unaccompanied minors arrive, according to NBC News.
A plan was also approved to allow young children from Central America to apply for refugee status in the U.S. in a bid to discourage them from making the risky journey across Mexico.
However, smugglers have adjusted their routes, finding new ones, and are working around border control points that the Mexicans have put in place, Wendy Young, president of Kids in Need of Defense told NBC News.
Maureen Meyer, a senior associate for Mexico and migrant rights at the Washington Office on Latin America, said increasing gang violence is pushing people out of Central America. 'We need to look at this as much more a refugee situation,' she said.
Migrating through Mexico and across the U.S. border is very dangerous, however 'the level of desperation' in their home countries is making families decide it's worth the risk, Meyer said.
U.S. Customs and Border Protection said the Office of Refugee Resettlement has, out of an abundance of caution, begun a process to expand its temporary capacity to house unaccompanied children.
It said ORR expanded its temporary shelter for unaccompanied children from 7,900 beds to 8,400 in November.
It also stated that ORR is preparing for temporary bed space in case additional beds are needed.
'DHS and HHS are working together to accommodate these children without disrupting the vital national security mission of the Border Patrol and have begun a process to expand HHS temporary capacity to shelter unaccompanied children,' it said.
U.S. Customs and Border Protection also said that they are continuing to 'aggressively work to secure our borders' and address 'deter future increases in unauthorized migration,' while making sure those with legitimate humanitarian claims are given the opportunity to seek protection.
Young told NBC News that the housing is 'dormitory-like', children are not able to leave the premises and inside it offers education and modest healthcare.
Incoming family groups are usually sent first to detention centers, and adult migrants are often jailed when they are apprehended.
However, children traveling alone need special treatment under federal law, so officials plan to open at least three shelters — two in Texas and one in California — to accommodate them.
The additional beds will enable the U.S. Health and Human Services Department to shelter up to 9,800 unaccompanied minors at a time.
'What we don't want to have happen is have a backup of people' at the border, agency spokesman Mark Weber said.
'We are making sure we have the capacity in place to take care of the children.'
By law, the Border Patrol has 72 hours to turn unaccompanied minors from Central America over to Health and Human Services, which is then responsible for their care until they are placed with a sponsor or have an immigration hearing.
Border crossings have not reached the levels of two summers ago, when a migrant surge prompted Texas officials to deploy the National Guard.
More than 10,000 children arrived in the United States that June alone.
Still, the numbers began to pick up again this June, and have remained high since then.
It remains to be seen whether this is a true resurgence, but Meyer said it is a telling sign that more families and children are coming during fall and winter months, when migration generally slows down.
As many as 1,000 of the children will stay at two rural camps outside Dallas: the Sabine Creek Ranch in Rockwall County and the Lakeview Camp and Retreat Center in Ellis County.
Published at The Daily Mail, December 12, 2015.
FAIR USE NOTICE: This site contains copyrighted material the use of which has not always been specifically authorized by the copyright owner. We are making such material available in our efforts to advance understanding of environmental, political, human rights, economic, democracy, scientific, and social justice issues, etc. We believe this constitutes a 'fair use' of any such copyrighted material as provided for in section 107 of the US Copyright Law. In accordance with Title 17 U. S. C. Section 107, the material on this site is distributed without profit to those who have expressed a prior interest in receiving the included information for research and educational purposes. For more information go to: http://www.law.cornell.edu/uscode/17/107.shtml"