NSA is unchained and let's bloody well keep it that way.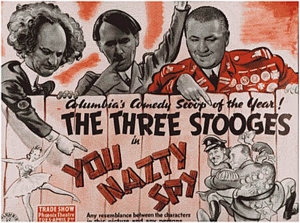 The latest flapdoodle over intelligence gathering has bestirred a more than usually energetic reaction. Calls to amend the Foreign Intelligence Surveillance Act and to shackle the NSA are erupting all over the political landscape like acne on a teenager's face.
But let's not get carried away. The problem is not with what NSA is and was doing. The problems are that it was caught doing it and that Obama is saying that NSA did something wrong, which it didn't.
What began as another round of leaks from Edward Snowden, telling us that NSA has been listening to German Chancellor Angela Merkel's cell phone calls for the past ten years, isn't over yet.
In a face-slapping and head-bopping exercise worthy of the Three Stooges, Moebama told us that he wasn't aware of any such thing, it wasn't his fault and somebody else must be responsible. Larry Carney told the White House press corpse that we weren't monitoring Merkel and wouldn't do it in the future, omitting conspicuously a denial that we'd done it in the past. Curley Boehner voiced a vague objection to spying on our allies, saying that "We have to find the right balance here. And we're clearly unbalanced." Huh?
Dianne Feinstein, chairman of the Senate Select Committee on Intelligence, said she was unequivocally opposed to NSA collecting intel on leaders of allied countries. Why? Does she fear that, by listening to Merkel, Obama might get some ideas on how to grow our economy?
The best — at least for this round — was yet to come. Merkel sent a delegation to Washington to try to "rebuild trust" with the Obama regime. At about the same time, we learned that the NSA was alleged to have tapped about 60 million Spanish phone calls and another 70 million French calls. François Hollande posed in several expressions of Gallic outrage, and Mariano Rajoy did his best to join in.
Hollande's and Rajoy's indignation competition was suddenly interrupted by NSA boss Gen. Keith Alexander, who spoiled their fun by pointing out that NSA didn't monitor those millions of calls. The French and Spanish spy agencies did — overseas, and while focused on the theater of battle — and turned the intel product over to NSA.
Look, we spy on everyone we are capable of spying on (except Americans), either electronically or otherwise. And we bloody well should. That means allies as well as enemies. Mizz Merkel, if she uses an unsecured cell phone for any confidential communications, is an incompetent. (This is why certain agencies took Obama's old Blackberry away from him way back in January 2009 and gave him a spiffy new one reportedly put together by General Dynamics to handle secret stuff.)
The way our laws are set up requires that the NSA not intercept phone calls, emails, and the like from any "U.S. persons" — pretty much everyone here except for representatives of foreign governments, spies, and terrorists — and quickly dispose of anything accidentally intercepted in violation of law. Just like the CIA isn't allowed to operate inside the U.S., NSA isn't supposed to aim its interceptions at us.
But outside U.S. borders anything goes and so it should. Everyone — allies and enemies alike — spies on us to whatever degree they are capable. We return the favor, and multiply that by a factor of ten by listening in to everything we can get on terrorist networks and other nations' intelligence agencies and a foreign leader or two.
This is and always has been a big part of statecraft. Anyone who believes that we or anyone else shouldn't be able to do it should be required to read about what Sir Francis Walsingham did for Queen Elizabeth in the 16th century. Espionage is the world's second oldest profession and is a lot more honorable than the first.
America has the big hammer of electronic surveillance and has a duty to use it. The NSA's enormous capability — satellites, hyperfast computer networks, and the like — have grown quickly since 9/11 to give us an incomparable capability. What we're seeing now is a political effort to reduce us to the capabilities of, say, Italy.
NSA is not blameless in all the problems revealed by Snowden's leaks. It — or at least the Justice Department lawyers representing the agency — hasn't always been truthful with the Foreign Intelligence Surveillance Court, which acts in secret and has jurisdiction over NSA's operations.
We know from one of the leaked FISC decisions that the court essentially destroyed one of the biggest protections of civil liberties built into the Foreign Intelligence Surveillance Act. That opinion extended the concept of "relevance" to a terror investigation to pretty much any communication that might develop evidence of a planned or conceived terrorist act. This is what led to (or expanded) the mass collection of telephone "metadata" — the telephone numbers involved in a call and the duration — for essentially all calls made in the U.S. and from the U.S. overseas.
So NSA did what federal agencies often do: it exercised the maximum power it believed it had, and the White House was apparently quite pleased. That's how NSA ended up collecting the metadata on 120 million Verizon customers' calls. This is certainly consistent with the direction it's getting from the White House.
The over-gathering of data, actually the gathering of any data at all within the United States, can be seen as a problem. But it absolutely is not so long as the inside-the-U.S. data are gathered from representatives or agents of foreign nations. Or from people who are communicating with terrorist groups inside or outside of the US. It's just a huge problem when the intercepted communications and data originate with Americans who aren't connected to terrorists.
There is a need to fix FISA, but there is too much danger in reducing NSA's activities to go very far at all.
Quick out of the "intelligence reform" box are Sen. Pat Leahy (D-Vt.) and Rep. Jim Sensenbrenner (R-Wis.) with their proposed "USA Freedom Act."
The bill actually has some almost-good ideas, but they're intermixed with too many bad ones.
On the okay side, it would eliminate the mass collection of Americans' metadata. It would be far better to simply rein in the FISC rulings on relevance, which should accomplish the same thing but wouldn't interfere with demonstrably necessary metadata collections (of which there are many).
But there's far worse in the bill. It would require a court order before the government could use — in court — any information collected in foreign intelligence operations. That could have much the same effect that the old "wall" did in separating intelligence ops from law enforcement as did the infamous 1995 "wall memo" written by then-Deputy Attorney General Jamie Gorelick. And it would create a sort of guardian ad litem of everyone's private communications to advise the FISC on certain cases, opposing what NSA was proposing.
There may be a more awful idea that the government would pay some bunch of lawyers to oppose NSA and represent the interests of foreign governments and people NSA wants to spy on, but nothing comes to mind at the moment.
Fortunately, this is only the beginning of the debate. If Congress were really interested in fixing FISA rather than tinkering with it to satisfy the media, it should start by sitting down and asking NSA, CIA, and the other intel agencies — and the Foreign Intelligence Surveillance Court judges — what should be done to fix it. Then it would have a baseline from which to work and deliberate its own changes.
Though this isn't quite the same Congress that gave us Obamacare, it is the one that failed to deal with repeated fiscal crises and is planning to give us immigration amnesty next year. With that track record, I shudder to think what it will do to FISA and the NSA.
Written by Jed Babbin and published at the American Spectator October 31, 2013.
FAIR USE NOTICE: This site contains copyrighted material the use of which has not always been specifically authorized by the copyright owner. We are making such material available in our efforts to advance understanding of environmental, political, human rights, economic, democracy, scientific, and social justice issues, etc. We believe this constitutes a 'fair use' of any such copyrighted material as provided for in section 107 of the US Copyright Law. In accordance with Title 17 U. S. C. Section 107, the material on this site is distributed without profit to those who have expressed a prior interest in receiving the included information for research and educational purposes. For more information go to: http://www. law. cornell. edu/uscode/17/107. shtml"