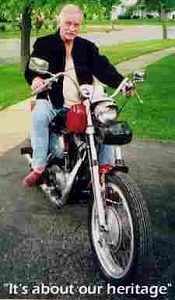 Long before drone attacks on American citizens, we had Waco and Ruby Ridge.
The message being sent from the 1960′s war protestor, anti American cultured administration was clear: Religious groups and lawful gun owners were now put on the endangered species list. No dissent will be tolerated now that the protestors are in command. – Angry White Male and the Horse he Rode In On – Rick Biesada
Well, it looks like Chicken Little Obamba, and Chicken Shit Eric Holder, got their ears pinned back last week over the faux, mass hysteria of Sequestration, and defining the Mickey Mouse policy of killing American's which conflicts with constitutional law.
Enquiring citizens have the right to know about due process.
Chicken Shit Holders despicable conduct could only be rivaled by the repugnant conduct of Judicial Committee Members, Joe Biden, and Orrin Hatch, for giving a pass to the FBI and DEA Officials who murdered David Koresh and 87 of his Branch Davidian, American citizen members, in their house of worship; or dropping charges against FBI sniper, Lon Horiuchi, for blowing apart Vicky Weavers head with a high powered round from his assault rifle, while Vicky did nothing more than stand in the doorway of their cabin, clutching her infant child in her arms.
Embarrassed for getting caught up in a series of lies, the Chameleon Obama, decided to suck in some Republican senators by hosting a dinner for them, while trying to coerce them into voting for his insidious budget plan.
A funny thing happened while these appeasing senators were kissing Obama's ass and sucking each other off.
A young senator by the name of Rand Paul, took a gallant step and started a filibuster in the senate over constitutional authority which captivated the nation and may have struck the spark to rekindle that old American warrior spirit in the hearts of disenfranchised patriots.
What Rand Paul had unwittingly accomplished, was an illustration of the one party system which dominates our country, to the disbelievers, while flushing out the treacherous, confederate traitors who are complicit, such a Senators John McCain, and Lindsey Graham.
While an inquiring nation was congratulating Senator Paul for his honesty, and statesmanship, these two morons were trying to disparage his effort and vilify him.
It is because of neo cons such as McCain, and Graham that our nation remains in the sorry state that it's in.
They are traitors to the people, and traitors to the constitution, and Senator Paul smoked them out.
Yeah, he smoked their stinking asses out and now it's up to the people to throw them out of office for ever more.
This was a good exhibition of what a United States Senator is supposed to do in the interest of the people… Not dine on the tax payers dime while licking the presidents boots, reassuring their careers and self interest instead of taking care of the peoples business.
McCain and Graham are relics, who have out lived their usefulness.
It's time for these two old buzzards to be put out to pasture and join Bob Dole, pushing Viagra for a living, instead of fucking United States citizens.
Hopefully, Senator Rand Paul, has started something by showing his cohorts how easy it is to confront an out of control government.
Chicken Shit Holder needs to go also, but not out to pasture. He needs to be tried for treason for the myriad of crimes that he has committed against the people, under the direction of Chicken Little Obama.
All we need to do is support the public servants who are actually protecting our interest through deed, and resist the tyrannical sons of a bitches who want to destroy our nation.
They are the enemies of the state!
MArch 13, 2013
~ About the Author ~

Federal Observer contributing columnist Rick Biesada is the co-founder of The Chicago Minuteman Project.