"Our Constitution was not written in the sands to be washed away by each wave of new judges blown in by each successive political wind" ~ Hugo Black
"How can the GOP attract general election voters if even more "moderate" candidates are forced during the primary season to move far right on cultural and social issues, thus alienating an electorate that is clearly moving more to the middle and left?" ~ Myra Adams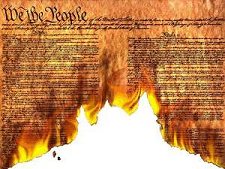 The second quote above is taken from an article written by Ms. Adams titled: "Yes, George Bush might well be the last Republican President." There is a huge possibility Ms. Adams may be correct, for republicans are continuing to fish in the wrong pond for votes.
Ms. Adams mentions an "electorate" that is being alienated by even the hint of adhering to constitutional tenets and principles. (Progressive is a modern day political term which means progressing steadily toward a Socialist utopia)
She lays a large part of the blame for the republican loss in 2012 on their inability to attract Hispanics. Attracting Hispanics is not the reason the republicans have become an afterthought to many in our country today. The real reason is their abandonment of the aforementioned constitutional tenets and principles in a vain attempt to lure more socialist voters into the party. Until republicans realize it is about principles, not getting elected at any cost, they are destined for the trash heap of history; going down in flames and taking the Constitution and Liberty with them.
In all probability the republicans lost as much as 11% of their base with their heavy handed approach to dealing with the Ron Paul faction at their most recent national convention. In essence the republicans were saying "Constitution, we don't need no stinkin' Constitution," we must pander to the socialist electorate; we must out-democrat the democrats. The problem most republican leaders do not fathom is: it is impossible to out-democrat a democrat; democrats are socialist professionals and have been pandering to those who believe they are entitled to what others have without working for it for a much longer period of time.
In case the republicans haven't noticed, there are millions of Americans out there buying guns, ammo, high-capacity magazines and food reserves who fully realize the socialist model the republicans are pandering to is on the verge of chaotic collapse. Unfortunately for our country and our Constitution, these Patriots have no representatives in our present government since the party that claims to represent them abandoned them long ago and gives them token attention only during the primary season, but in the main continues to embrace the political programs of the mortal enemies of Freedom and Liberty.
The totally failed concept that an unconstitutional republican is somehow better than an unconstitutional democrat has destroyed constitutional government in America. Those who embrace socialism would rather have a professional running the show than an amateur who has no core values. Yes, republicans, I'm talking about you; you have no core values; everything is negotiable, even our Constitution and Bill of Rights. You have placed our Liberty and Freedoms on the open market; more than willing to trade them for votes, power, position and money.
If there is any hope for the republicans, they must stop fishing in the socialist pond and find a way to appeal to the millions of people who have dropped out of the socialist political madness and are busy buying guns, ammo and food reserves. These folks have learned over the past few decades that no matter who you vote for in a socialist, unconstitutional political environment, all you end up with is more socialism. The lesser of two evils is still evil!
Instead of trying to figure out how to get a modern day, leftist member of Ms. Adam's electorate to vote for them, republicans, if they even care anymore, need to refocus on representing the millions of Americans who still cherish our Constitution, Bill of Rights, and the morality based America intended by Thomas Jefferson, Patrick Henry, George Mason, Samuel Adams and others of conviction who pledged to each other their lives, their fortunes and their Sacred Honor.
In Liberty,
Mike
www.constitutionfirstcolorado.com
Submitted to the Federal Observer for publication on Joe and Barb McCutchen on February 17, 2013.
We invite you to visit Joe and Barb McCutchen's web-site, Arkansas Freedom.com