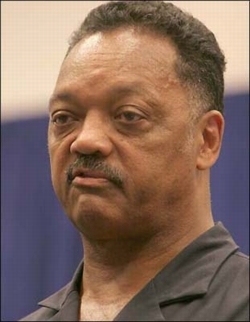 Jesse Jackson cracks me up. Like most liberals who discuss the current gun debate, he wants to ban so-called assault weapons because so many people are being killed by handguns. This lack of honesty by all these anti-gun nuts isn't working for them, but at least Jesse Jackson finally revealed what their real concerns are: Jackson stated on Fox News (2/3/13) that all these people who are unemployed and armed with these assault weapons is a toxic mix. I'll give him that one! Jackson went on to say that these assault weapons in heavier calibers like .50 BMG, can bring down aircraft and even disable trains. I'll give him that one too. These are true statements, but then they try to hide their actual motive behind gun death statistics, statistics of gun deaths overwhelmingly caused by people killing other people with handguns!
What the feds and idiots like Jackson fear is that these so-called assault weapons can be used on them, but that sounds too self-serving, so they can't openly admit that. Instead they point to statistically rare instances where semi-automatic weapons with standard 30-round magazines are used in a mass-killing, compounded with an overall death rate from all guns, which are almost entirely handgun deaths, as their emotional blunt instrument to back their argument.
In addition, the anti-gun nuts claim that something like 70-80% of all people, including NRA members, favor gun control, but what they don't admit is that the vast majority of those people favor only enhanced background checks, and not gun bans of any kind!
It's just one fat lie after another. The reason the liberal politicians want semi-automatic rifles with 30-round magazines banned is because they don't want American citizens to be armed with weapons comparable to the weapons issued to law enforcement and the National Guard. In other words, if a, "toxic mix" were to occur en masse all over the United States, they want their forces to have weapons that are superior to the weapons available to the public so that we are outgunned. Everybody knows this, which is why there is a mass-run on semi-autos with multiple 30-round magazines in spite of all the bad publicity being spread about them.
The problem with their motive is that the Framers of the Constitution and Bill of Rights specifically wanted the citizens to have the same small arms as the governing authorities to discourage future government tyranny. The politicians, both Republican and Democrat, have literally driven our economy into the ground, leaving millions of Americans jobless, homeless and penniless, and just around the corner they know the American Dollar will be devalued to the point the citizens will want to overthrow them.
Test me on this: Demand that if American citizens are barred from owning semi-automatic, standard capacity weapons, then all domestic law enforcement (including FBI and DHS) and National Guard must be disarmed of their M-16 and M-4 fully automatic weapons with standard capacity magazines. If we are limited to handguns, shotguns and bolt-action rifles, then our domestic law enforcement and National Guard must follow suit. If the governing authorities balk at that, then you know who is telling the truth. It is quite simple, really!
February 3, 2013
Carl F. Worden
Liaison Officer
Southern Oregon Militia