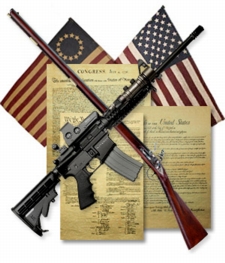 The bodies of those poor murdered children weren't even cold before the gun grabbers were trying to turn this terrible incident into a political issue.
If you idiots think that enacting still more laws is going to keep some sicko from getting his hands on a gun, you need to pull your head out of whatever sphincter you have it buried in.
If you outlaw guns, then only outlaws will have guns because they don't pay attention to laws anyway that is why they call them outlaws and/or criminals, and the response time for a 911 call is anywhere from 10 to 20 minutes (if you are lucky), whereas the response time for a 357 magnum (against a home invader) is 1400 feet per second.
How much value do you place on your family?
I have children, grandchildren, and great grandchildren, and my heart goes out to all those parents who lost children today, but the young man who perpetrated this horrific act was a sick, disturbed individual and no law could have stopped him anymore than another law could have stopped Columbine.
When people like that want to get their hands on a gun, they can get one, black market or stealing or by whatever means.
Just for openers the 2nd Amendment is what it is, and you can't add to it or take away from it without a constitutional convention and then it has to be ratified, and all the mealy mouthed liberal lawyers in the whole country can't change that.
Even if you try to put some cockamamie regulation on the books, you should be bright enough to know that American gun owners will not give up their weapons just because a bunch of Pablum-Puking liberal lawyers say so, and lest we forget one more thing, how will they be able to enforce it without a lot of enforcers getting hurt in the process?
Just as an example, compare the violent crime rate in states with tight gun restrictions (illegal in the first place) as opposed to states that have concealed carry or open carry.
Politicians and criminals do not like armed citizens, as it is too easy for them to get their ass shot off (sort of changes their work environment a tad don't ya know).
If truth be known, probably most politicians have concealed carry permits but they don't want you to have one, nor do they want you to know they have one, they want you to think no one should have a gun including them (but they do).
Feinstein, Schumer, Pelosi and Reid must be absolutely salivating at the opportunity to use this incident as ammunition to further their gun grab agenda.
Oh I almost forgot Hillary and Barak are also in the gun grab mode by way of trying to backdoor a small arms treaty with the thugs at the U.N.
These charlatans just don't give up, they are a bunch of crooked, lying bastards and they all belong behind bars, all 546 of them.
We need to build a whole new wing at Fort Leavenworth just to house all the crooked politicians we have in this country.
WAKE UP AMERICA!!!
December 14, 2012
~ The Author ~


Aaron Cantor USAF (ret) Born: 19NOYDB Hometown: Planet earth (for the moment) Current residence: Las Vegas, NV. Marital status: Zilch (divorced with lots of grandkids and greatgrandkids' Favorite weapons: A spatula, a #1 iron, and a corkscrew (not particularly in that order).