Whenever I hear anyone on the Left offering a "friendly advice" that the Republican Party must revise its "rigid" stance on illegal "immigration" and stop opposing it ("embrace Hispanics" is a code-phrase often use in this context) in order to attract the Latino vote, it makes my blood boil.
To make it worse, some G.O.P. strategists (professional losers would be a more descriptive attribute here) and other "analysts" concur with the Left, which makes me doubt whether they are bona fide strategists or merely implants of the Liberal fifth column.
I keep asking myself: is this really true or am I just hallucinating? For the level of absurdity in the standard "rationale" for this kind of "advices" compares only to what one can find in "Alice in Wonderland".
What they, in fact, are advising is that the Republicans must welcome and facilitate the million-man Mexican invasion of our country in order to remain politically relevant during and after the Mexican conquest of the U.S., euphemistically referred to as the demographic change (as if these were the previously-white Americans who have decided now to have Latino children).
Republicans are advised to compete with the Democratic Party in the contest of surrendering to the Mexican invasion, when a call to national defense against it is very much in order. Can you imagine a more absurd postulate?
They say G.O.P must drop its insistence on enforcement of the national border and immigration law, and let millions of willing Mexicans "migrate" into the U.S., instead, or Hispanics (including these "migrants" just a few years from now, after they get "legalized" and awarded U.S. citizenship) are not going to vote Republican anymore.
They say G.O.P. must not object throwing various benefits on illegal aliens (about two thirds of whom are Mexicans) in order to not anger the Latino voters.
They say G.O.P. must stop objecting an amnesty for illegal aliens (which is euphemistically referred to as "comprehensive immigration reform" as if the immigration law needed any reform other than diligent enforcement), because otherwise the Latino vote will go to the Democratic Party that keeps pushing for the amnesty, and vigorously so.

At the same time, no one is advising any party to embrace Caucasians in order to attract the white vote, despite the fact that only about 56 percent of whites voted for Mitt Romney, and increasing that number to, say, 75 percent (which is roughly the percentage of Hispanics that voted for Barack Obama) or to 95 percent (the approximate percentage of Blacks that voted for the Black President; however, in 13 Philadelphia wards, Obama received 99 percent of the Black vote or more) would have a much more decisive impact on the elections than successfully courting the Latino vote (see reference 0).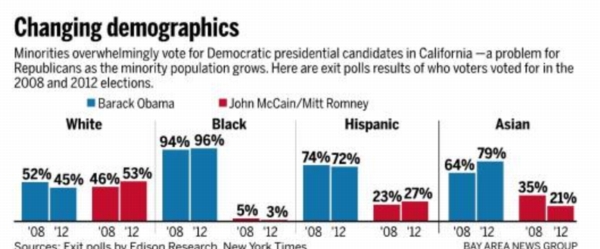 True, President Obama and his Party party are selling America big time to Mexican invaders in exchange for Latino vote, which I consider an act of treason against the American people. True, that sellout has saved the Democratic Party from losing the White House and, perhaps, control of the U.S. Senate in this year's elections. But it does not follow from these regrettable facts that We the People who want to preserve this country for ourselves and our posterity must compete with the traitors and start bestowing on the invaders even more generous concessions in order to make them vote Republican next time. What if the ruling party sells American military secrets to our enemies (like China and Russia) and uses the proceeds to solidify its grasp on power? Will the "friendly advisers" say that the Republicans must do the same, and – perhaps – more cheaply, in order to compete for revenue coming from these enemies?
That would be nonsense.
The rational reaction to acts of politically profitable treachery is not to come up with competitive treachery but to discourage and prevent the traitors from doing their treasonous business and to stop them from benefiting from the betrayal. (Or otherwise we should get ready to submit ourselves to Sharia Law in order to attract future Muslim vote; 85 percent of Muslims voted for Obama this election.) Sadly, many of our elites do not think so, and this has been that way for quite some time, now. (See "Anatomy of Treason", reference 1, below.)
But how do we know that after they use the generosity of the competing parties, these Latinos will not just replace our government with theirs and, eventually, kick us out of our possessions? Taking into account their rapid population growth and their proverbial inability to elect economy-stimulating governments, they are going to need our property and land in order to make room for their numerous kids and to subsist them. If they are militant and assertive now when they still mean so little, why would anyone expect them to become respecting our rights and self-constrained when they gain more political strength?
Besides, some of the renowned scholars (see reference 2, below) argue, and convincingly so, that the Latino vote goes, by and large, to collectivist and redistributionist politicians as so many Latinos are unable to provide for themselves and often need taxpayer-funded assistance in order to make ends meet.
Do you want to have an insight what the Latino vote can do to America? Just look what it has done to California.
The population in California is skyrocketing while its economy is shrinking. Businesses, investors, and highly productive professionals are moving out of the state while millions of the needy are moving in. The public sector unions and the Democratic Party have de facto monopoly on political power, which translates onto high (and rising) tax rates and chronic and deep budget deficits. The political arrangement in California has all appearances of a corruption scam: the Democrats in the State Legislature passed the law that public sector employees must pay an "agency fee" to the unions even if they are not union members, and the unions deliver part of the collected funds back to the Democratic Party so that it can maintain its monopoly on political power.
The State Legislature redistributes incomes of American citizens working and doing business in California among all the needy, including millions of illegal aliens (vast majority of them from Mexico). As a matter of fact, the Legislature became a beachhead for the Mexican invasion, and the biggest cities, S.F. and L.A. outcompete each other in their assistance to illegal Mexicans, including those who are habitual lawbreakers
And all this is taking place despite the fact that, according to a recent poll by the L.A. Times, about 60 percent of Californians still support Proposition 187 (approved by the majority of voters and later invalidated by a federal judge) that would prohibit the state from giving away taxpayers-funded public benefits to illegal aliens.
Most recently, and largely due to the Latino vote, Californians voted to increase taxes upon themselves and defeated ballot proposition that would end the collection of the "agency fees" by the unions, which measure would break the above mentioned scam of forcing public employees to pay to the coffers of the Democratic Party.
The Latino vote made the it happen.
Now, do you want the rest of the country follow California footsteps, as many Liberal prophets predict will take place?
I don't.
If you do then brace yourself for election of Hugo Chavez's' alike for the future U.S. presidents. (In the best-case scenario for the Republican Party, it could be Bush's Hispanic nephew; I am not sure which eventuality is worse.) That is all that the Latino vote can accomplish.
Not that the courting the Black vote would be much better. Without Black vote, Barack Obama would never become the U.S. President, the worst one in my lifetime, I must say. Another politician (also from Chicago) that the Black vote gave to America was Jessie Jackson Jr. who just won his re-election while in a rehab clinic (they say, under treatment for bi-polar disorder) and a defendant in a criminal corruption case that resulted in plea bargain likely to put him in jail after he is released from the clinic. (See reference 3 and quotes.)
Courting the Latino vote is in America's interest about as much as appeasing Germans before the World War II was in Europe's interest – it has/had only accelerated fall of nations that forgot how to defend themselves against hostile takeovers. Those who wish to weaken our country and to displace us, white Americans, with a help of Latino tsunami that originated in Mexico and other Latin-American countries but was engineered right here in the U.S., are salivating for the prospect of driving the last nail into the white America's coffin. Despite for their deceptive claims that nobody is trying to replace one nation with another (most likely, in order to plant the seeds of socialism here), the facts are as obvious as they are frightening – just look at the prediction published recently in the San Jose Mercury News (see reference 4). There is nothing to be cheerful about!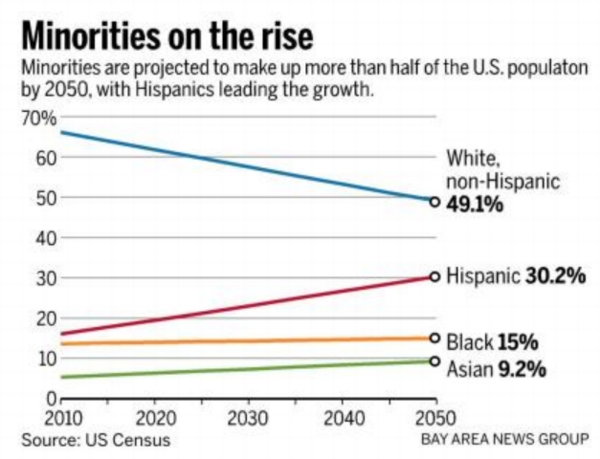 If you are held at a gunpoint on a busy street, and your captor "advices" you to get in his car so that he can drive you to the woods to talk with you, your last chance of survival is to run. Don't be fooled by his promise that if you don't resist, nothing bad is going to happen to you. As soon as you comply with his "advice" and you end up one-on-one with him in a secluded place, you are dead.
And so will be (figuratively speaking) the Republican party, together with the rest of white Americans, if they yield to pressure and begin competing with the Democrats for the favors of Latino illegal "immigrants", their progeny, and sympathizers.
REFERENCES
[0] The Case of the Missing White Voters
[2] Why Hispanics Don't Vote for Republicans
[3] Former U.S. Prosecutor Negotiating Plea Deal For Jackson Jr.
The plea deal would end Jackson's 17-year career as a congressman representing Chicago's South Side and suburbs.
The tentative deal includes:
– Jackson resigning for health reasons.
– His pleading guilty to charges involving misuse of campaign funds.
– The congressman's repayment of any contributions that were converted to personal use, such as home furnishings, improper travel or gifts.
At least some jail time would appear to be inevitable for Jackson, the son of civil-rights icon Rev. Jesse Jackson Sr.
The Congressman is currently being treated for a bi-polar disorder, both at the Mayo Clinic in Minnesota and as an outpatient at his home in Washington. He has been on medical leave since June and did not campaign in-person to be re-elected to his 2nd Congressional District seat. He won his bid Nov. 6.
[4] The GOP challenge: Looking to California for lessons on how to change
November 11, 2012
~ The Author ~


Mr. Dwyer has been a continuing contributor to the Federal Observer. Mark Andrew Dwyer's commentaries (updated frequently) can be found here. Send your comments to readerswrite@yahoo.com.