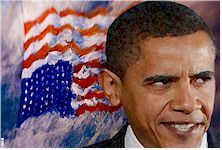 We are approaching the biggest national event since Super Bowl XLVI, the United States Presidential election and the nauseous media pundits are all screaming like banshees about which candidate will win.
We are being inundated with political polls and the constantly changing numbers, ad-nauseam, to the point of delirium to an ignorant, and selfish society.
The soap opera must be played out, but I could have saved a lot of angst and money by calling this election early … back to June 28th, 2012, when Supreme Court Chief Justice, John Roberts, circumvented the United States Constitutional protection about the government over stepping it's authority by forcing every American to purchase a government mandated product, or face a penalty.
This was the day that I knew for certain that our Constitutional Republic had been hijacked by what ever moniker the slave masters choose to use, but who are using Barack Obama, and his Chicago Way stooges, to carry out their mission of change, which will destroy our country and relegate it to third world fame.
The main stream media's omission, and cover up, over the massacre of our Libyan Ambassador, Christopher Stevens, and three other Americans in Benghazi, without any public out rage, only confirmed my opinion that this grand experiment called America, is over, thanks to Obama and company.
Here is a guy who is a neophyte to life.
A man child who had no experience in the private sector, and little experience in public office where he voted "present" 167 times as an Illinois State Senator whose main ambition was trying to pass infanticide legislation.
Obama's claim to fame is an illusion perpetuated by his adoring media freaks.
As Clint Eastwood stated: "Obama is the greatest hoax ever perpetuated on the American people."
We have succumbed to being transformed into a neutered society.
The children of our greatest generation have dropped it's guard and allowed itself to be knocked out by the anti American forces of Professor Gonorrhea, and his Marxist pals who have subverted our principles by instituting the false philosophy of multi-culturism, and political correctness, on a once self reliant society.
I don't care how many educational degrees a person holds, if they vote for Obama, they defy all logic and reality.
This presidents past term should be considered an exercise in treason.
Obama has been a leaderless scoundrel who has blatantly violated the United States Constitution with his reckless disregard for the law.
There is speculation that Obama was running guns and weapons to al-Qaeda using Ambassador Stevens as the arms dealer to provide weapons to the rebels in Libya and Syria.
Stevens was the link between the CIA and al- Qaeda, so with the elimination of Stevens nobody would get wind of the plot.
That is the reason why the distress call for added security in Benghazi went unanswered by the Obama administration and that is the reason why two high ranking military officers were relieved of duty.
General Carter Hamm and Admiral Charles M. Gayoutte, were fired for jointly trying to rescue the Ambassador and his team despite being told to stand down by Leon Panetta, the Secretary of Defense.
It seems that this Obama team has a proclivity to run guns to our enemies whether it be in the Middle East, or in Mexico, where Operation Fast and Furious is trying to get covered up.
Fast and Furious focuses on the murder of US Border Patrol Agent, Brian Terry, and hundreds of innocent Mexican citizens who were gunned down by drug cartel thugs, using guns smuggled into Mexico under the watchful eye of the racist Attorney General, Eric Holder.
Only a fool would want to live under four more years of these misfits.
Obama has spent his entire term either vacationing, living high on the hog off of tax payer dollars,or campaigning while transferring wealth to his dysfunctional base of useless eaters, and his shyster fund raisers, who have magically made hundreds of billions of stimulus tax dollars, disappear.
He has smothered good paying jobs like a wet blanket with burdensome regulations and prohibitions.
He and his rogue operatives have managed to turn the Middle East into turmoil, just as he and Chief Justice Roberts will realize turmoil here on American soil once the Affordable Care Act is fully implemented on United States citizens.
Chief Justice Roberts should feel honored.
He has put himself at the top of the list of public servants most likely to get sodomized and gang raped once the revolution begins.
You see, it really doesn't matter which stooge wins this election.
Most people prefer Mitt Romney, because we think he is a much superior candidate, but to frustrated patriots, it really doesn't matter.
What matters is that there are enough of us left after this election to keep the embers of liberty burning in the hearts and minds of patriots who love this country and helped secure it's liberty.
We may be small in numbers but we are tempered in the philosophy of freedom and liberty.
We haven't succumbed to the neutered concept of political correctness, and we never will.
They can take away our guns … but we'll kick their ass using rocks and sticks.
It ain't over, 'til it's over!
November 4, 2012
~ About the Author ~

Federal Observer contributing columnist Rick Biesada is the co-founder of The Chicago Minuteman Project.