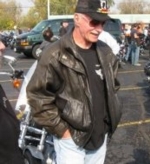 This Benghazi debacle is very disturbing, especially for our active duty military personal in combat zones.
If the allegations by government whistle blowers being lodged against the Obama administration are true, this president, his Secretary of State, Secretary of Defense, and Director of the CIA, should be brought up on charges of dereliction of duty, and treason.
To a soldier there is nothing more contemptible than to have his commanding officer bug out on him in a combat situation.
To the military in general, there is nothing more atrocious than to have their Commander in Chief bug out on them … period!
In an all volunteer military why would anybody risk his life to be put on an endangered species list? Going out on an operation under this administration who doesn't care how many Americans die as long as Mrs. Mohammad gets a chance to vote for some puppet stooge, is surely a suicide mission.
According to professional military leaders, Benghazi was a suicide mission for Ambassador Christopher Stevens, and three other Americans as their requests for military support fell on deaf ears.
American's are getting weary over the myriad of stories circulating about the military assault on the United States Consulate, in Benghazi, Libya, this past September 11th, by enemy rebels which we possibly may have armed to depose their former leader, Moammar Gadhafi.
While the truth is being sought out in slow motion because of the coming election,, we know for certain that the US Consulate in Benghazi was under assault, our U.S. Ambassador, Christopher Stevens was brutally sodomized, then murdered along with three other American patriots who fought for their lives while this administration watched the assault in real time, then bugged out on them, leaving them to die instead of rescuing them.
According to retired Army Lt. Colonel, Tony Shaffer, who relayed to Fox News "Justice with Judge Jeanine," that this attack happened during the middle of the business day in Washington D.C. so everybody in the White House, the Pentagon, and the CIA was watching this assault go down in real time in the White House situation room.
Shaffer said the question is; what exactly President Obama did, or did not do, in the moments he saw the attack unfolding.
Colonel Shaffer stated that the CIA reportedly made three requests for military back up which were denied.
President Obama is the only person who could issue a directive to his Secretary of Defense, Leon Panetta according to Colonel Shaffer, but Panetta claims that he didn't have enough information about what was happening on the ground.
Perhaps he should have taken his head out of his ass and walked over to the situation room, wiped off his magnifying glasses, then watched the attack transpire in real time over the satellite monitors.
Colonel David Hunt, a Fox News military analyst claimed that the military could have had jets in the air within 20 minutes based out of Sigonella Air Base in Italy, 480 miles away. and a rapid response team on the ground with in two hours but the Obama pacifists did nothing to save the lives of these American's who were under assault for seven hours.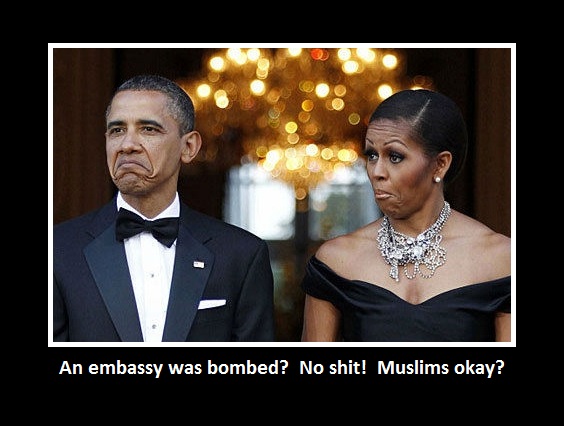 It was also reported by other sources, that we had two AC- 130U drones flying overhead.
An AC-130U was purposely built for missions like this with two state of the art fire control systems to be used as a point defense against enemy attacks of this nature.
It was reported that Delta Force units were told to stand down while security officers painted the targets with lasers which would have stopped the attack at any time, eliminating the terrorists and saving the lives of the American's, but this administration chose not to.
They bugged out on them, now Obama wants to get re elected to put more Americans in harms way.
Whose side is this guy on?
It behooves me to think that any American who votes for this creep is either an idiot, or a radical Islamic sympathizer.
Instead of mounting a counter attack, or evacuation of the Consulate, which was being over run by our enemy as an act of war upon America, Obama continued to campaign and fund raise as if nothing was amiss while his boot licking media has been covering his stinking ass ever since.
This guy has been prancing around TV shows, collecting money while telling lies, and acting like a little prince.
Last week he went on MTV, talking to some semi literate host by the name of Andrew Jenks, who didn't have the courtesy, or manners to remove his funky, over sized cap in the peoples house.
Jenks asked him some really tough questions, such as which music he likes.
Our Commander in Chief had plenty to say about Hip Hop … but the motherfucker had nothing to say about Benghazi, or why the urgent requests for military back up, or a rescue mission was denied, or why did he bug out on our Americans?
Let's teach this disgusting traitor a lesson about music on November 6th … and give him the Blues!
October 28, 2012
~ About the Author ~

Federal Observer contributing columnist Rick Biesada is the co-founder of The Chicago Minuteman Project.
Angry White Male and The Horse He Rode In On by Rick Biesada can be special ordered through most book stores, or through the publisher at wholesale price off of the Angry White Male web site at http://www.stylefeeder.com/i/pf0v5r2j/Angry-White-Male-And-The-Horse-He-Rode-In-On-By-Rick-Biesada-Paperback.