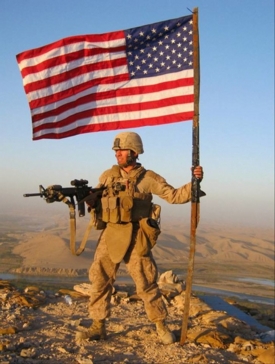 Can Any War Veteran Vote for a President Who Intentionally Caused Four Deaths, Intentionally Allowed Benghazi Consulate to Be Over Run, Denied Often-Begged Security Despite Danger Warnings, Refused to Send Available Rescue Groups, and Several Times Ordered Available Help to Stand Down.
Obama had on-sight reports and video before and during the Benghazi terror attack, so knew everything as it was happening.
Did Obama want this outpost destroyed because they were brokering guns to enemies of Obama's Muslim friends?
What about the rumor that Obama wanted Ambassador Stevens kidnapped so could trade him back for releasing imprisoned Omar Abdel-Rahman, the "Blind Sheikh".
Most of Obama's staff is involved in a complex lying conspiracy to hide until after the re-election that the "war on terror" is being lost through mismanaged alliances.
Obama is a shameful egotist with no integrity who will use any dirty trick to get re-elected because he hates the American way of life and wants to kill "Capitalism" and eventually become President of the whole world by heading a Socialistic United Nations.
Best regards for a better government.
REAL NEWS Editor: thenewsman@ij.net October 26, 2012.
FAIR USE NOTICE: This site contains copyrighted material the use of which has not always been specifically authorized by the copyright owner. We are making such material available in our efforts to advance understanding of environmental, political, human rights, economic, democracy, scientific, and social justice issues, etc. We believe this constitutes a 'fair use' of any such copyrighted material as provided for in section 107 of the US Copyright Law. In accordance with Title 17 U. S. C. Section 107, the material on this site is distributed without profit to those who have expressed a prior interest in receiving the included information for research and educational purposes. For more information go to: http://www. law. cornell. edu/uscode/17/107. shtml