Last evening, my wife and I went out for dinner at Ruby Tuesday's in Avondale, Arizona, as it it is one of our favorite places to dine – and last night was exceptional.
As we entered, I noticed three uniformed U.S. Army soldiers sitting at the bar. As we were walking toward our table, the manager walked toward me, and I asked her to buy the guys a drink "on me." She thanked me, and I thought that this would be the end of it.
We were seated and drew Eric, a nice young guy as our server. We ordered drinks (wine for the wife, handcrafted raspberry tea for me), and an appetizer and our entree's. About the time our drinks were served, one of the GI's approached our table and stated, "I heard a rumor that you bought us a drink," to which I replied, "rumors aren't all they're cracked up to be." We both laughed as he thanked me, and soon the other two guys walked over to also thank us…
We chatted for awhile, and we invited them to sit down with us, which thankfully they did. Frankly, my wife and I experienced one of the most enjoyable evenings out in a very long time – but – I had to wade into the usual conversation – and it was marvelous. Suffice it to say that we all found ourselves in agreement – especially as relates to Obama and his disdain for members of our military – and the facts that the Obama administration seems to be doing all they can to prevent those serving overseas from casting their absentee votes on November 6, 2012.
Our guests have each spent time in Iraq and Afghanistan, and our currently serving in the reserves and are all living in Arizona. One is a firefighter for the City of Tempe, one is a U.S. Border Patrol officer, stationed in Yuma, Arizona, while the third – well – he didn't quite tell us what he does, but lives just down the road from us, with his wife and son.
Our conversation went on for nearly two hours (something that would not have happened if had had just been the wife and I) and we spoke of their time in their various theaters of "war," and my time in Viet Nam. We had many laughs and we discovered our commonalities and shared our "war stories."
When the evening was done – the manager came over and informed us that SHE was picking up the tab. We left Eric a sizable tip anyway.
We all will be getting together again soon.
When I received the following this morning, I felt compelled to share the above story with you, and post what you are about to read. Needless to say that our new friends aren't too happy about this issue either. (JB)
The following has been received from one of a large group of retired army officers.
When you read this, keep in mind that the BHO Administration has yet to prosecute the Muslim Major who killed 13 American servicemen and women in front of a multitude of witnesses, but they have been quick to prosecute our military for politically incorrect actions that "might offend" Muslims.
Military's massive move to vote out Obama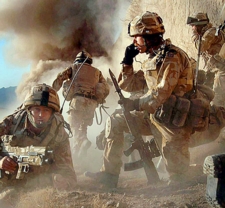 More than 1,000 American soldiers have lost their lives in Afghanistan in the last 27 months. This is more than the combined total of the nine years before.
Thirty have died in August. The commander in chief is AWOL. Not a peep, although he ordered the White House flag flown at half mast for the Sikhs that were killed.
There is a deep disgust, a fury, growing in the ranks of the military against the indifferent incompetence of this president. It has taken on a dangerous tone. No one knows what to do about him, but the anger runs deep as the deaths continue with no strategic end in sight to the idiocy of this war. Obama has had 4 years to end this futile insanity, during which time he has vacationed, golfed, campaigned, and generally ignored the plight of our men and women in uniform.
But, there is now a movement afoot in the armed services to launch a massive get out the vote drive against this president. Not just current active duty types, but the National Guard, Reserves, the retired, and all other prior service members.
This is no small special interest group, but many millions of veterans who can have an enormous impact on the outcome of the November election if they all respond. The million military retirees in Florida alone could mean an overwhelming victory in that state if they all show up at the polls.
It might not keep another one hundred U.S. troops from dying between now and November, but a turn out to vote by the military against this heart breaking lack of leadership can make a powerful statement that hastens a change to the indifference of this shallow little man who just lets our soldiers die.
Published at Military.com with heated comments from both sides of the aisle.
RELATED: 'He Yelled Allahu Akbar': Dramatic New Video Features Fort Hood Victims Demanding Shooting Be Classified As Terrorism