Socialism is a philosophy of failure, the creed of ignorance, and the gospel of envy. It's inherent virtue is the equal sharing of misery. – Sir Winston Churchill.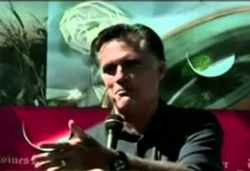 Well, if Sir Winston Churchill's observation about Socialism is correct, why are conservatives elated over the presidential debate?
We have a devout Marxist being challenged by a softer version of Socialism.
Mitten's Romney tends to be Bush lite, a globalist who believes in government regulations except when it interferes with his election scheme, such as favoring President Obama's unconstitutional executive order to grant a back door amnesty to illegal aliens under the bogus auspice of the Dream Act.
Romney approves of this tyranny, and stated that he will not interfere with it.
Mitt Romney a decent family man, wouldn't normally be my first choice but it's time to face reality.
We are running out of time and there seems to be no help from the Congressional leaders who are supposed to protect our interest. American's didn't remain vigilant. We cast our country into a dire predicament by electing lesser men whose interests run counter to the average American, and now the chickens are coming home to roost.
We need Mitten's to slow the process down so we can maintain our liberty and preserve the republic while rebuilding the system which was bestowed upon us by patriotic statesmen.
When I hear the media pundits chirp about this being a close race it boggles my mind.
Close … Why?
It's a no brainer for patriots.
This is a contest against a devout Marxist, an enemy of the state, so there should be no doubt in any patriotic American's mind that Barack Obama needs to be defeated for the good of America.
Anybody could do it based on Obama's disastrous record, Beaver Cleaver, or Pee Wee Herman, but we drew Mittens Romney and to tell you the truth, I'm impressed with the exhibition Romney put on against the real Barack Obama.
It's been said that Romney took Obama on a cross country trip tied to the roof of his car.
I couldn't agree more, Obama looked stupid, but what has not been said by his infatuated, sycophant media stooges is that Obama ain't shit. He never was to began with, he is a figment of a media creation, so don't come into our neighborhoods and tell us to be tolerant of radical Islam.
Obama never did anything of merit, unless you consider being a community organizer for street gangs, he is an inexperienced neophyte in politics but he is the media darling that falls into their aberrational, multi sexual society of misfits who desire to change our way of life.
Romney, an experienced businessman and politician, was no contest for this impotent loser in front of 64 million television viewers.
I recall Alan Keyes giving a similar beating to Obama in Chicago back in 2004 when they competed for the Illinois, US Senate seat. The media skewed the results in Obama's favor blowing the minds of everybody who witnessed the event, just like the Sonny Listen, Muhammad Ali fight back in 1962.
Obama is the least experienced politician in the country. His land mark legislation as an Illinois state senator involves favoring infanticide instead of the protection of new born infants.
As Illinois Senate chairman of Health and Human Services, Obama introduced Bill 1332, the Illinois Health Facilities Planning Act, as a favor for then corrupt Illinois Governor, Rod Blagojevich, and political fund raiser and bagman, Tony Rezko.
The bill reduced the size of the board from 15 members to 9, thus giving control to a sleazy, crack head attorney and board member, Stuart Levine.
This gave Levine the power to extort contractors who were bidding on construction jobs at the Illinois hospital facilities.
Now, with the exception of Obama, the benefactors of this scheme are all sitting in penitentiaries, while no media person ever questioned the motives for Obama pushing this legislation.
His wife Michelle received a nice $317,000 per year ghost job with the University of Illinois Hospital after the legislation passed, then quit to help out her husbands campaign the week Stuart Levine got indicted for his participation in this extortion scheme along with Rezko and Blagojevich.
It's beyond my thinking why any reasonable person would want a second term out of this president or his corrupt administration.
His arrogance, deceit, lies, and corruption have decimated the prestige of the presidency.
Another term of this madness will surely destroy the country, yet the rabid, media sycophants will do anything to bury the facts in favor of this Marxist, narcissus, so remember that as we take back our country and rid ourselves of the Chris Matthew's, and his ilk of anti American propagandists. There is no place for this lice in a free society.
Their fraudulent media cohorts have been busted. The lefty's at the Third Way think tank have unwittingly reported that Democrat voter registration is down by 490,000 just in the state of Ohio alone.
Other battle ground states are reporting similar losses, Florida is reporting a loss of 4.9% while Iowa reports a loss of 9.5%.
The scary part about Ohio for Democrats is that 44% of the drops comes from Cuyahoga County, an Obama stronghold where they recently ran a You Tube video of some wild talking Obama supporter celebrating the generosity of the free Obama cell phones.
These adjustments to the numbers are the results of an ambitious program to find and remove deceased voters off of the voting rolls, and to eliminate redundant voter rolls that have been counted twice over the years.
Also, a recent Gallup poll shows that Republican's are 16 % more enthusiastic about voting than their Democratic pals.
So remember these numbers the next time you hear a fraudulent poll.
Obama is on his way out of office in a land slide defeat, as should be. Let's hope his Obama Care will cover the ass kicking he got from Mittens … and don't let this happen again!
October 7, 2012
~ About the Author ~

Federal Observer contributing columnist Rick Biesada is the co-founder of The Chicago Minuteman Project.
Angry White Male and The Horse He Rode In On by Rick Biesada can be special ordered through most book stores, or through the publisher at wholesale price off of the Angry White Male web site at http://www.stylefeeder.com/i/pf0v5r2j/Angry-White-Male-And-The-Horse-He-Rode-In-On-By-Rick-Biesada-Paperback.