The politically incorrect rapper Snoop Dog put his two cents in the heated national debate leading up to the November election, posting online a foul-mouthed yet funny list of reasons why he would vote for Barack Obama over Mitt Romney.
The 40-year-old hip hop-turned-reggae artist, who had recently changed his name to Snoop Lion, posted a photo of the handwritten list originally created by @DragonflyJonez on Friday.
The number one justification for not voting for the Republican candidate is that 'He is a white nigga,' followed by: 'He looks like he says 'nigga' all the time.'
Another reason to withhold support from the former Massachusetts governor who had put on a commanding performance during Wednesday's debate is that 'He always interrupts and talks over people like he's better than them. Bitch, I will beat the shit out of you.'
The list also takes a special issue with Romney's name, citing it in three separate entries: 'This mutherfucker's name is Mitt.'
The Republican hopeful is referred to as a 'ho' and is taken to task for owning a 'dancing horse,' referring to Ann Romney's dressage horse, Rafalca.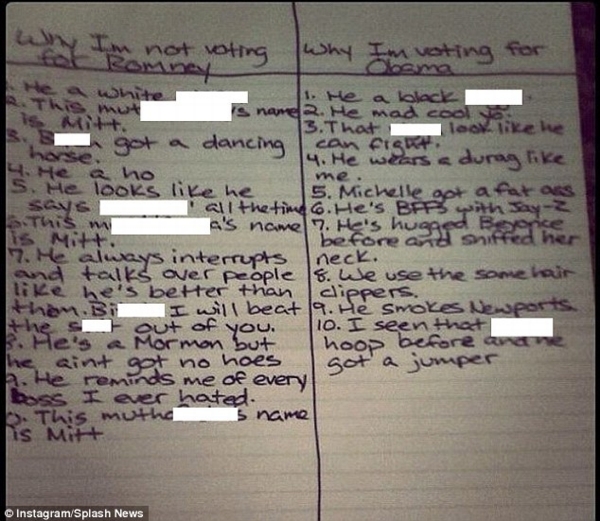 Reason No. 8 mentions Romney's religion, saying that 'He's a Mormon but he ain't got no hoes,' while the following entry states: 'He reminds me of every boss I ever hated.'
Under a column titled 'Why I'm voting for Obama,' the author of the profanity-laced ditty writes that the president is a 'black nigga' and 'mad cool yo.'
Obama also gets points for his close relationship with his 'BFF' Jay-Z and his wife, Beyoncé.
Some of the other reasons for casting a ballot for the president appear questionable at best, among them that First Lady Michelle Obama 'has a fat ass.'
The handwritten note also mentions that the commander-in-chief 'smokes Newports, and that Obama, who's been known to enjoy a game of basketball, 'got a jumper.'
Since appearing on Instagram on Friday, the list has become an instant hit. Some of Snoop's followers have taken him to task for expressing supposedly bigoted views, while others praised the performer for infusing some humor into the overwrought political debate.
This is not the first time that rappers got into the political fray. The radio station V-103 reported that Nicki Minaj caused a stir when she rapped about voting for Romney. She later set the record straight by declaring that she was actually supporting Obama.
Jay-Z held a fundraiser that raised a reported $4million for the president, while rapper Nas has recently recorded a PSA in which he urges the youth to vote.
Written by Snejana Farberov and published at the Daily Mail, October 6, 2012.
FAIR USE NOTICE: This site contains copyrighted material the use of which has not always been specifically authorized by the copyright owner. We are making such material available in our efforts to advance understanding of environmental, political, human rights, economic, democracy, scientific, and social justice issues, etc. We believe this constitutes a 'fair use' of any such copyrighted material as provided for in section 107 of the US Copyright Law. In accordance with Title 17 U. S. C. Section 107, the material on this site is distributed without profit to those who have expressed a prior interest in receiving the included information for research and educational purposes. For more information go to: http://www. law. cornell. edu/uscode/17/107. shtml