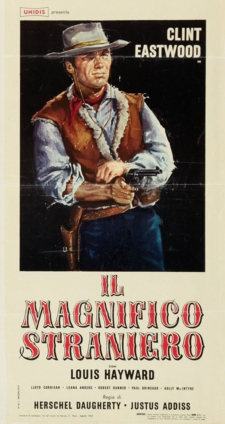 Paint Your Wagon! Clint Eastwood just dropped another nuke on Obama. In the latest issue of The Carmel Pine Cone (Sept 7-13, 2012) American's favorite actor said,
"President Obama is the greatest hoax ever perpetrated on the American people."
The Pine Cone is the weekly newspaper for Carmel and the Monterey Peninsula. Clint Eastwood was the Mayor of Carmel, California from 1986 to 1988 and didn't run for a second term. Clint was elected in a landslide with 72% of the vote. President Ronald Reagan called Clint to congratulate him on his victory. Mayor Eastwood accomplished all of his campaign promises while in office and cleaned out a lot of the bureaucracy and red tape that riled him enough to run for office in the first place. You don't mess with The Enforcer.
Maybe Obama should look up from his teleprompter and take a peek at the High Plains Drifter riding his way. The Pale Rider told the Pine Cone in last Tuesday's interview,
"Romney and Ryan would do a much better job running the country, and that's what everybody needs to know. I may have irritated a lot of the lefties, but I was aiming for people in the middle."

That's Heartbreak Ridge for Obama. Eastwood was talking about his celebrated appearance at the Republican National Convention in Tampa, where the Honkytonk Man took the podium and carried on an impromptu dialogue with an empty chair he brought on stage as a prop. The empty chair represented Obama. Eastwood's skit was a riot. Most Americans laughed so hard it hurt. Liberal heads exploded. An empty chair for an empty suit. Eastwood struck a national chord that has been reverberating ever since. The Sudden Impact of Eastwoods' comic skit blew a big hole in Obama's hopes for election.
The Good, The Bad and The Ugly
"I had three points I wanted to make," Eastwood said. "That not everybody in Hollywood is on the left, that Obama has broken a lot of the promises he made when he took office, and that the people should feel free to get rid of any politician who's not doing a good job. But I didn't make up my mind exactly what I was going to say until I said it."
This is The Good, The Bad and The Ugly all rolled into one tidy package. The good is that not all the Hollywierdos are radical, hate-America leftists. That is good news. The bad is that Obama has broken virtually all of his campaign promises; like cutting the deficit by half in his first year on office (his budget has a 1.3 trillion dollar budget deficit for 2012-and he can't even get his fellow Democrats to vote for it. Not even For a Few Dollars More); free public health care for all (ObamaCare robbed Medicare of $716 billion, and never delivered on the "public option."); that he would end the recession and bring in a booming economy (he made both infinitely worse); that there would be no new taxes for anyone earning under $250k/year (a blatant lie); and so on. One long string of broken promises and an empty chair.
Clint's final, ultimate insult was ugly indeed. Clint Eastwood said President Obama should be fired for his incompetence and abysmal performance. That's right. Clint Eastwood said President Obama should be fired. Onstage at the RNC Eastwood turned to the empty chair and said,
"I think if you just step aside and Mr. Romney can kind of take over. You can maybe still use a plane," Eastwood said.
Ouch. Obama should put some ice on that. Perhaps he and Michelle can leave the White House on Two Mules for Sister Sarah, if a plane isn't available. Don't go away mad, Eastwood seemed to be saying, just go.
Every Which Way But Loose
In A Perfect World, Obama's unicorn campaign promises could even come true. But The Rookie is discovering that he is Unforgiven, and that Americans are desperate to see the last of Obama and the Pink Cadillac he rode in on. The main question Americans have is not whether or not we can survive the current economic downturn, but whether or not we can survive another four years of Obama and the Democrats. Eastwood echoed this sentiment brilliantly.
You can't accuse Clint Eastwood of Hollywood scripting for his remarks at the RNC: his speech was entirely off the cuff, according to the Pine Cone. Even Romney's aides didn't know what Clint was going to say.
"They vet most of the people, but I told them, 'You can't do that with me, because I don't know what I'm going to say,'" Eastwood recalled.
"I got to the convention site just 15 or 20 minutes before I was scheduled to go on," he said. "That was fine, because everything was very well organized."
After a quick trip through airport-style security, he was taken to a Green Room, where Archbishop Dolan of New York sought him out to say hello. Then he was taken backstage to wait for his cue. And that was when inspiration struck.
"There was a stool there, and some fella kept asking me if I wanted to sit down," Eastwood said. "When I saw the stool sitting there, it gave me the idea. I'll just put the stool out there and I'll talk to Mr. Obama and ask him why he didn't keep all of the promises he made to everybody."
And Clint Eastwood made American history that night by talking to the empty chair, a perfect metaphor for President Obama. It was Eastwood's Million Dollar Baby and the American people loved it. A viral Twitter campaign declared National Empty Chair Day, on Labor Day Monday. Millions of Americans put empty chairs on their front lawns and all over to support Eastwood and show their contempt for Obama. It will likely become a new American holiday. Politicians will beware National Empty Chair Day and the increased scrutiny sure to come with it. The Obamazombies have been viciously lashing out at Eastwood ever since. But does Bronco Billy care?
Here are Dirty Harrys' concluding remarks at the RNC.
"We don't have to be — what I'm saying, we do not have to be metal (ph) masochists and vote for somebody that we don't really even want in office just because they seem to be nice guys or maybe not so nice guys, if you look at some of the recent ads going out there, I don't know.
(APPLAUSE)
But OK. You want to make my day?
(APPLAUSE)
All right. I started, you finish it. Go ahead…
AUDIENCE: Make my day!
EASTWOOD: Thank you. Thank you very much."
Thank you, Clint. The American people love you.
Written by J.T. Hatter and published at American Thinker September 8, 2012.
FAIR USE NOTICE: This site contains copyrighted material the use of which has not always been specifically authorized by the copyright owner. We are making such material available in our efforts to advance understanding of environmental, political, human rights, economic, democracy, scientific, and social justice issues, etc. We believe this constitutes a 'fair use' of any such copyrighted material as provided for in section 107 of the US Copyright Law. In accordance with Title 17 U. S. C. Section 107, the material on this site is distributed without profit to those who have expressed a prior interest in receiving the included information for research and educational purposes. For more information go to: http://www. law. cornell. edu/uscode/17/107. shtml