GRAND JUNCTION, COLORADO… A City That knows how to say and Picture the Truth!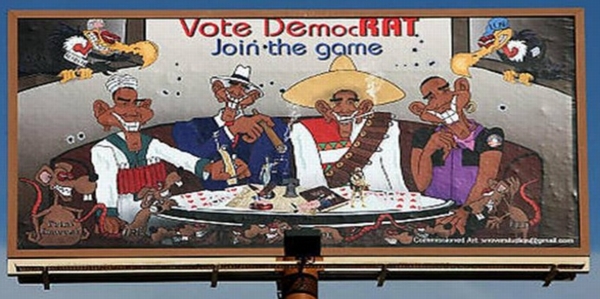 A billboard depicting Barack Obama as an Islamist suicide bomber, a homosexual, and a Mexican bandit has triggered a storm of criticism in a western U.S. city weeks ahead of crucial polls.
The colorful poster of the Obamas – under the ironic slogan "Vote DemocRAT" – is attracting attention from media worldwide and from people clogging a local parking lot for a closer look.Beneath the cartoonish figures of Obama — also depicted as a cigar-chomping gangster — are rats, labeled as trial lawyers, the Inland Revenue Service (IRS), the Environmental Protection Agency (EPA) and the Federal Reserve bank.
Pretty much says it all . . . Don't know 'bout you folks, but I love it.!!!
- We American Voters Expect Action