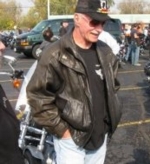 It looks like a bad season for white boys.
Genocide Watch chief, Gregory Stanton declared that white South African farmers were facing a genocide onslaught, and that Communist forces were taking over the nation while virtually nobody noticed.
Not even our scintillating, frolicsome, Secretary of State, Hillary Clinton. She remained mum on the subject while she was down there last week, having a good time drinking cocktails, and bumping and grinding out on the dance floor with some African women while pledging billions of our tax dollars to the ruling government whose Communist President, Jacob Zuma, has a penchant for singing racist songs which were declared "hate speech," by the court.
According to Stanton, since the end of Apartheid the ANC government has been working to redistribute land, much of which is owned by the white minority.
As in neighboring Zimbabwe, one of the wealthiest nations in Africa, the schemes have failed. Under their Marxist leader, Robert Mugabe who gave the stolen land to his cronies which forced millions of people to die from starvation, or flee to other countries. His plan was an abject failure, so now they are doubling down in South Africa.
It's all part of a vicious campaign of dehumanization aimed at whites, according to the experts.
Demonizing the victims always precedes genocide.
Dan Roodt, of the Pro-Afrikaans Action Group is dismayed at the Obama administrations opinion that Afrikaner lives do not count.
Roodt states that the situation is rapidly deteriorating, over the last few days there has been an increase in attacks on family owned farms.
Hit squads specifically target women and elderly farmers with brutal atrocities including neck lacing, in which a tire filled with gasoline is placed around the neck of a victim, then ignited.
Stanton claims that the Communists have taken over just about all of the private ownership because private ownership gives people power. Once you have taken away private ownership, Stanton continues, there is no basis on which you can have the economic power to oppose the government.
Here at home, white boys are being taken for chumps.
Former United States Marine, Brandon J. Raub, was arrested for posting his opinion on Face Book.
According to Raub's mother, the Chesterfield, Virginia County police, along with the FBI, and the Secret Service, took Brandon Raub into custody and restrained him at a psychiatric hospital for posting his opinion on Face Book.
Senators Carl Levin, and John McCain must be creaming in their jeans over this first test case of their diabolical bill written in secret: S 1867, The National Defense Authorization Act, which allows our government to hold a United States Citizen indefinitely if they are labeled a terrorist.
These senators should feel real proud of themselves for deeming that the battlefield can be anywhere on United States soil, especially in their old lady's under wear.
I've read some of Mr. Raub's Face Book postings and they didn't seem to be anything out of the ordinary for a United States Marine to voice his opinion over an out of control government, encroaching on our liberty, and driving us towards the same path as South Africa.
Brandon J. Raub is an easy target for Big Sis and her legion of bull dykes at Homeland Security to confront, or for those feeble minded senators, Levin and McCain to harass, but where are these guys when it comes time to confront the real terrorists such as the New Black Panther Party.
This mob of malcontents spews racial hatred on a daily basis. Their jive talking leader, King Samir Shabazz was on the radio inciting black people to kill whitey.
He stated on public radio that black people had a duty to kill white crackers. To skin them, dunk them in rivers, and tie them to car bumpers then drag them around town. He publicly stated that they should go to hospitals and blow up maternity wards and this punk is still walking around free on the streets without even a simple restraining order against this evil hate monger.
This is the same asshole who got arrested for voter intimidation in Philadelphia during the 2008 elections, but had charges dropped by the complicit Holder Justice Department which seems to hold a proclivity against arresting black gang bangers and terrorists.
United States authority is no where to be found because there is a war on against white boys.
The Obama administration can't win an election because of their abominable record. A record that has just about destroyed our nation, and perhaps that is the main objective, but in keeping with the slave masters script, we must have an election and the only way for this imposter, Obama, to win, is to intimidate white voters the same way South African's are doing to the white farmers, the same way our government treats Mr. Raub, or any other proud and sane American who voices dissent over a corrupt, and out of control government.
I believe that we have more Caucasian voters than psychiatric hospitals so let's get it on!
Resist these tyrants, resist their tyrannical advances.
Start singing loud and proud.
Start singing so loud that you drown out that fucker who is singing the racist hate songs in South Africa, then watch Ol' Paint Clinton literally dance her ass off and crawl home.
August 19, 2012
~ About the Author ~

Federal Observer contributing columnist Rick Biesada is the co-founder of The Chicago Minuteman Project.
Angry White Male and The Horse He Rode In On by Rick Biesada can be special ordered through most book stores, or through the publisher at wholesale price off of the Angry White Male web site at http://www.stylefeeder.com/i/pf0v5r2j/Angry-White-Male-And-The-Horse-He-Rode-In-On-By-Rick-Biesada-Paperback.