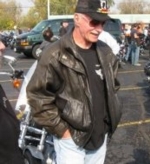 Brace yourself for more high comedy coming out of the Supreme Court as it decides just exactly who is a "natural born citizen," as required by the United States Constitution for those who would be president.
Clearly, Barack Obama is not qualified for this position, yet Georgia's Supreme Court Judge, Michael Malihi, threw three cases out which validated the cause of Obama's ineligibility.
Judge Malihi's mendacious behavior caused concern as some court watchers learned that Malihi has Iranian roots and remains more of a mystery than Barack Obama.
Officials with the Liberty Legal Foundation confirmed that they have filed an appeal of the Judges deceptive ruling.
The Patriot Update.com, a member of the Liberty Alliance, did research on this wily judge who has been in his position since 1995.
He is the only judge across the entire United States, with a sampling of data, without a full bio. It appears as far as research has been done there has never been a full bio of Malihi, anywhere.
Is he a United States citizen?
He appears to be a no-where man.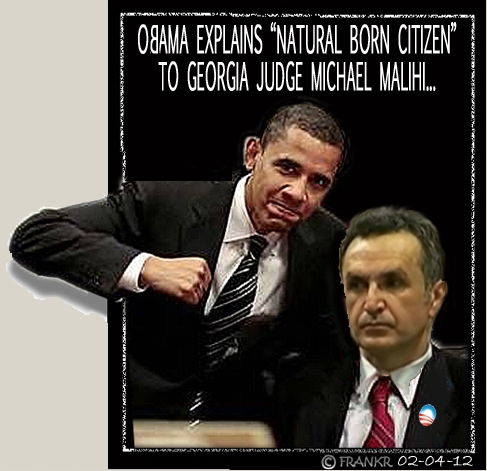 Why do we find less information about this judge than we can find on Obama, and does anybody really care any more?
With Justice John Robert's recent diabolical ,and fallacious decision, on the Affordable Health Care Act, does any thing really matter?
We have just witnessed lessor men extinguishing our liberty with the stroke of a pen, and the sheople can't muster a spark to start fire of outrage.
How disgusting is that, when we allow ourselves to be preyed upon by low life cheaters, scheming con men, and feckless weasels?
For those slimy Communists who worry about Justice Ruth Bader Ginsburg, either croaking or retiring, which ever comes first, they are grooming her replacement right now as we speak.
It was a hard choice to make based on the courts formula of judicial integrity, but the finalist will be, Judge Joseph C. Polito, dubbed Judge Lewdy by the Chicago Sun Times, who published a story about porn sites being linked to Polito's Will County, Illinois computer.
Polito who sat on divorce court was transferred the next day to a court room that hears building code violations, and mental health cases.
A complaint was filed with the Illinois Judicial Inquiry Board which alleged that Polito frequently used his court house computer to access porn sites during working hours, violating the Code of Judicial Conduct. ( Just words )
Specifically, Polito used his Will County issued computer to access pornographic web sites either in the morning before court calls, or in the afternoon after his court call getting all horned up after a juicy session in divorce court.
Of course, being a cunning judge, Polito denied it and blamed it on somebody hacking into his site and stealing his pass word.
When the Sun Times requested Freedom of Information Act documents pertaining to Polito's computer log, Will County Chief Judge, Gerald R. Kinney insisted that those documents were judicial records that the public had no right to see.
He finally released them after the Illinois Attorney General wrote a legal opinion that listed the porn sites as unrelated to any judicial function, then Polito voluntarily sought treatment for his behavior.
The records showed that Polito's computer login and password were used 243 times to view porn sites in a six month period, looking up scores of web sites including chubby parade.com, huge heavy breasts.com, big bra-club.com, portofdebachery.com, and many more sites too crude to publish even on the Federal Observer web site.
The good news is according to his proclivity towards these web sites, he should fit in well in the Supreme Court, complimenting Elena Kagan, and that Wise Latina woman, not to mention Uncle Clarence and his collection of porn.
The Illinois Judicial Inquiry Board has not rendered a decision on Judge Polito at this time.
Chief Judge Gerald R. Kinney claims that Polito is a good guy and this little skirmish has no impact over his ability to serve the community as a member of the judiciary.
So, if he gets thrown off of the bench, or dis barred, the only place left for him to go is to the United States, Supreme Court.
I guess we should be honoring this creep. He is worthy of receiving the Bill Clinton Crooked Dick Award, and we'd also like to acknowledge the fact that he "beat out," some really tough competition to become the current nominee.
I just can't understand how he beat out Creek County Oklahoma Judge, Donald D. Thompson, a deranged psychopath.
Yeah … Good old sticky fingered Donny Thompson, the judge who used a male enhancement pump device to masturbate while hearing cases.
The pump was concealed under his bench attached to his shaved and oiled genitalia which gave him away while hearing a murder case. The prosecution kept hearing a loud swooshing sound coming from under the bench.
Donny got 5 years in the slammer, so that should be a prerequisite for the Robert's court.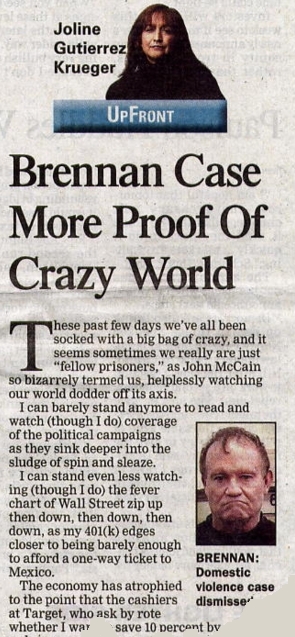 Another high ranking nominee was former Chief Justice of the State District Court of New Mexico, John W. Brennan.
Judge Brennan ran a state police road block then fled the scene leading the police on a reckless automobile chase.
Judge Brennan was charged with a DUI and possession of cocaine. He showed how well he knew the system by weeping, apologizing, then turning himself into rehab.
I'm sure that you would agree that none of these turds are worthy of sitting on any bench. They are not fit, or capable of dispensing justice, let alone making serious decisions on another persons life.
Judges are the most deceptive people to vote for. You never hear about them except on election day when they have rolls of names on the ballot. Most have low name recognition, so get to know these sticky fingered scoundrels before you go in front of them, and hold them accountable.
Appointed Judges are more difficult to get rid of.
The most heinous appointment of a Justice to the Supreme Court was Chief Justice John Roberts, a guy who changed the entire destiny of the United States and will doom this nation into poverty with one unlawful, and deceitful decision.
Don't believe these politicians when they tell you to vote for a certain president because he will pick the judges on the Supreme Court.
They are all corrupt, or subject to bribery, but people are starting to wake up.
Polito may be a pervert but at least he won't have to be looking over his shoulder all of the time for the rest of his short life, like that reptile, John Roberts.
July 15, 2012
~ About the Author ~

Federal Observer contributing columnist Rick Biesada is the co-founder of The Chicago Minuteman Project.
Angry White Male and The Horse He Rode In On by Rick Biesada can be special ordered through most book stores, or through the publisher at wholesale price off of the Angry White Male web site at http://www.stylefeeder.com/i/pf0v5r2j/Angry-White-Male-And-The-Horse-He-Rode-In-On-By-Rick-Biesada-Paperback.