It's 1929 all over again and "Mr. Hammer" is at the auction bloc over at Cocoanut Manor in the Jewish neighborhood. "Why a Duck?" Because it quacks! (Ed.)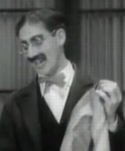 When Buddy Persaud promised his investors the moon and the stars, he wasn't kidding.
Persaud, an Orlando-based financial broker, believed the markets were affected by lunar cycles and gravitational pull.
When — surprise, surprise — the heavens failed him, Persaud paid out their promised high rates of return (up to 18 percent) by simply recruiting new investors and using their funds to pay off the old ones, the Securities and Exchange Commission alleges.
Put simply, he ran a Ponzi scheme — the non-sustainable pyramid fraud that invariably ends in ruin.
In the dirty world of Florida Ponzi schemers, Persaud is a small-timer. His enterprise, which totaled $1 million, was a comparable pittance.
From Scott Rothstein to Nevin Shapiro to even Bernie Madoff, there are so many swindlers with South Florida ties, they deserve their own wing in the Scoundrels Hall of Shame.
If pooled, the proceeds from their greed-fueled scams could run some small countries.
Rothstein, the disgraced Fort Lauderdale attorney who peddled phony structured settlements, used his $1.2 billion scheme to buy more watches than most people have paper clips, a toilet seat made of gold and an open account with a local escort service. Rothstein's over-the-top, in-your-face lifestyle ended with his 2009 arrest. He copped a plea, and still got a 50-year prison stint.
Rothstein's elaborate con, the largest financial fraud in South Florida history, secured his place near the top of the pyramid of the 12-most egregious Ponzi schemers with area ties — a club impressive in its audacity and its amorality.
"We seem to attract more than our fair share of crooks and bums of all varieties," said Charles Intriago, a former federal prosecutor and Miami-based financial crimes expert. "This seems to be a magnet for these folks."
Said Andrew Levi, a fellow ex-prosecutor: "Is this the Ponzi capital of the nation? I don't know. But there's no question that it's one of the worst.
"It's definitely, unfortunately, a place where either Ponzi schemes have originated or where residents have been the target," added Levi, who now heads the Miami office of Nardello and Co., the international investigative firm.
Groucho is showing maps of Florida real estate, and plays Mr. Hammer, a Florida hotel owner during the Florida land boom in the 1920's, desperately trying to unload real estate on unsuspecting buyers. Hammer takes on Chico as his shill to try to up the price of his questionable real estate.
So you see – nothing ever changes at the Grand Hotel… (Ed.)
RANKED RIGHT BEHIND THE BIG APPLE
Miami ranked second behind just New York in federal prosecutions of securities and investment fraud last year, said Wifredo Ferrer, the U.S. Attorney for the Southern District of Florida — and was first overall in financial institution fraud.
And the problem seems to be only getting worse. Nationally, the number of pending securities and commodities fraud cases has increased in each of the past four years, with 1,846 in 2011. While not every securities-based rip-off is a Ponzi scheme — named after the most famous pyramid fraudster, Charles Ponzi — many are. Since 2008, the SEC's Miami regional office has brought civil charges in 13 cases where Ponzi scheme allegations were the primary alleged fraudulent activity.
In response, the SEC, U.S. attorney's office, IRS and other state and federal agencies have pooled their resources to more aggressively take on Ponzi schemers, who Ferrer says target the middle class as well as the rich.
"We're dealing with real people who have saved their hard-earned money," Ferrer said. "To have it all swept away at the end is outrageous and unacceptable."
It's not entirely clear if the increase in Ponzi arrests has been due to more Ponzis actually taking place, or simply more coming to the attention of authorities due to the brutal economic times. Madoff's $65 billion scheme — the largest in American history — unraveled only because the stock market crashed in 2008, and his investors tried to pull out their money. He didn't have it.
TARGETING THOSE WHO ARE LIKE YOU
Locally, Gaston E. and Teresita Cantens are among those targeted in recent years by the SEC's Miami branch. The local real estate developers defrauded more than 400 investors by offering bogus promissory notes claiming annual returns of 9 to 16 percent, the commission says.
In all, their scheme totaled $135 million, much of which came from fellow graduates and supporters of Gaston Cantens' alma mater, Belen Jesuit Preparatory School. Along with the SEC suit, Gaston Cantens, 73, pleaded guilty to mail and wire fraud. He is currently serving a five-year stint in a low-security prison in North Carolina.
Cantens followed a now-familiar fraudulent blueprint: Target those who are like you — and, by extension, trust you. He went after fellow Cuban Americans.
Eduardo Arango, 80, invested more than $800,000 — money from the sale of his house, and nearly his entire life savings — in Cantens' business. He got just $24,000 of that back in bankruptcy court. Now, Arango's home is a rental property in Kendall, and he lives far more modestly than before he got mixed up with Cantens. He drives cheaper cars, and can't take vacations.
"I'm still angry; I don't forgive him at all," said Arango. "He didn't mind taking everything from his friends."
Even Belen got fleeced, losing a half-million dollars in the Ponzi.
Madoff, whose enterprise was based in New York , not only cleaned out fellow Jews — many from Palm Beach County — but even ripped off Jewish charities.
So in this way, South Florida's demography — and the sense of autonomy among its various ethnic groups — makes it uniquely susceptible to scammers.
And while it's now a tired (and, to a degree, outdated) cliché that we're the home of the blue-haired army, retirees still make up a disproportionate chunk of our population — and they have money to invest.
"Given their age and frequently their lack of sophistication of what they bring to the investment process, they always have been and continue to be a vulnerable group," Levi said.
WHY SCAMMERS TARGET FLORIDA
Matthew Menchel was a prosecutor before switching sides. He is now a defense attorney with the global litigation boutique Kobre and Kim that deals in white-collar criminal cases, including alleged pyramid schemes.
Miami is a financially "immature" city, Menchel says. Swindles that would never fly in savvier places like New York are able to flourish here because investors concerned solely with making a quick buck don't do the proper due diligence.
And unlike other towns, flash is in our DNA.
"It's easier to blend in here because of the nature of how things are," said Eric Bustillo, the SEC's regional director.
"If a guy goes from driving a Toyota to a Ferrari over a few months, it doesn't necessarily raise the eyebrows here it would in a place like Wisconsin."
No matter what you drive, you're going to draw attention if you do so recklessly.
In April, state troopers pulled over Scott Thenen on the turnpike after he didn't make way for an emergency vehicle with its lights flashing, according to police records. Cops smelled what they thought was weed in his car, and they say they were right. He had a joint hidden in a compartment, and a total of 10 grams of marijuana stored in his trunk.
What the troopers didn't know at the time: They were about to arrest one of the area's pioneer Ponzi schemers.
Thenen and his father Kenneth had their bulk-grocery trading company shut down in 1993 after investigators discovered they were running a $300 million fraud.
The Thenens guaranteed investors in the company, Premium Sales, a return of up to 40 percent, telling them that they bought groceries at the lowest wholesale prices they could find, then resold them in areas of the country where prices ran higher.
When the business began going south, the Thenens used proceeds from new investors to pay off old ones. Among their roughly 1,800 backers: Yankees legend Joe DiMaggio.
Both father and son pleaded guilty to fraud and money laundering. A judge handed Scott Thenen an eight-year prison sentence (he got out in 2005), and recommended the younger Thenen participate in a drug and alcohol rehabilitation program.
While cops were questioning him after his April arrest, Scott Thenen admitted he used to be prescribed Xanax and that he smokes "weed" as a way of self-medication.
Thenen, 54, was charged with marijuana possession; he ultimately pleaded no contest. Thenen went free on $100 bond — paid by his dad, now 75 and living out his days in Boca Raton.
"I think, on a level they do know a Ponzi scheme is unsustainable," Levi said. "And on another level they convince themselves that they can figure out a way to keep that going. It becomes human nature.
"People are always going to be vulnerable to these kinds of schemes."
© 2012 Miami Herald Media Company
Written by Adam H. Beasley and published at the Miami Herald July 7, 2012.
FAIR USE NOTICE: This site contains copyrighted material the use of which has not always been specifically authorized by the copyright owner. We are making such material available in our efforts to advance understanding of environmental, political, human rights, economic, democracy, scientific, and social justice issues, etc. We believe this constitutes a 'fair use' of any such copyrighted material as provided for in section 107 of the US Copyright Law. In accordance with Title 17 U. S. C. Section 107, the material on this site is distributed without profit to those who have expressed a prior interest in receiving the included information for research and educational purposes. For more information go to: http://www. law. cornell. edu/uscode/17/107. shtml