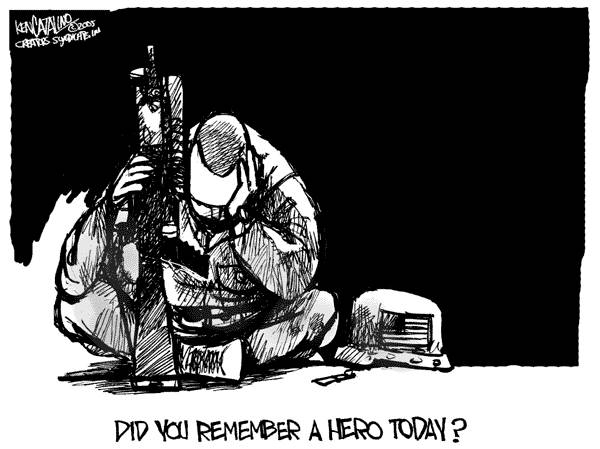 God Bless all United States troops, and veterans, on this Memorial Day.
Another holiday for all of our self absorbed, megalomaniacal ignoramus leaders, to spread bullshit.
As my Marine Corps. buddy, Al Garza puts it, "I was never a hero, but I am thankful to have served with them." Semper fi, Al.
Our country has a lot to be thankful for, in spite of our president's constant apologies to our nations adversaries, and we owe it all to our nations veterans.
I just viewed a You Tube video which stated that every 90 seconds a World War II veteran dies.
Now that our nation has been infiltrated by Socialists and subverted from with in, which one of our feckless politicians wants to tell these guys that their efforts to secure our liberty was a waste of time?
Which one of you lesser men want to spit in the eye of an American GI, because that's exactly what you do when you violate the United States Constitution.
Every veteran takes an oath to protect, and preserve, the United States Constitution, and to protect our nation from all enemies, both foreign and domestic.
America, a country founded by rebels who searched out  a different way of life; not shackled to the political ways of Europe, and the Divine Right of Kings.
Our first settlers came here from Britain, not Islamabad, as Commander in Chief, Barack Obama would like you to think. They came during the Seventeenth Century to escape from civil war over oppressive taxation.
Our founding fathers were very wise, like thinking men. They believed in freedom, liberty, and the concept of limited government with low indirect taxes.
This wisdom found it's way into the constitution … for a little while, now it's ripe for change again.
As legend has it, the American Revolution began with the Boston Tea Party, over taxation without representation, almost as repugnant as taxation with our jackassed representatives of today.
The British responded by over reacting and invading the colonies with naval and ground troops.
Most colonists remained passive, but thank God, we had about 20% of the population that weren't about to be pushed around and abused by these oppressive Englishmen.
This same 20% were the doers of this new land. They were the people who built it, nurtured it, and farmed the land. They developed businesses that provided work and jobs for their fellow countrymen, and they were the same 20% of American colonists who kicked the hell out of the British, and sent them packing back to their mother land.
This 20% of American patriots won our freedom while the other 80% rode along to a life of liberty on their backs.
Our founding fathers were encompassed in that 20%.
Their wisdom embraces our constitution. They knew about tyrannical governments, that's why they spelled everything out in the constitution, as this was to be our rule of law to govern our land, to define our freedom, to protect it's people from tyrants, to guarantee our freedom and liberty, and not to abuse power, or legislate nonsensical laws.
So which public servant wants to tell our veterans how to speak, which light bulb to use, or what capacity of toilet to piss into?
Which one of you faint-hearted hucksters wants to tell a veteran that he's not paying his fair share of taxes after he's been on the battlefield witnessing his buddies making the ultimate sacrifice?
There seems to be a double standard here lately.
You want to honor our troops, send them into harms way, then bring them up on charges for killing the enemy in a combat zone.
You can't have it both ways, so don't say that you respect our troops while you discriminate against them by giving away their jobs, and school seats, to foreign invaders, then call us American's, bigots, if we address this travesty.
Out of that 80% of free loaders, about 50% don't pay any taxes, or are on some type of government entitlement with out any skin in the game.
These are the people that most Congress critters pander to, so please Mr. Public servant, don't try to honor the memory of our heroic veterans with your despicable actions.
You only bring shame upon the sacrifices that these fine American troops made, while you continue to line your pockets with greed and appease the same despots that you misuse our troops against, then dauntingly betray them.
Happy Memorial Day to our veterans… Semper Fi.
May 27, 2012
~ About the Author ~

Federal Observer contributing columnist Rick Biesada is the co-founder of The Chicago Minuteman Project.
Angry White Male and The Horse He Rode In On by Rick Biesada can be special ordered through most book stores, or through the publisher at wholesale price off of the Angry White Male web site at http://www.stylefeeder.com/i/pf0v5r2j/Angry-White-Male-And-The-Horse-He-Rode-In-On-By-Rick-Biesada-Paperback.