Yes they did get raises….
It was last year (2010), verified August 2011 but note that is still "his" staff and remember in November that we were told there was going to be no Cost of Living Adjustment for seniors for two years…while he wants to raise our taxes too. Come on people, we're working our azzez off while they get more money, that government don't seem to give a s*** about the voters.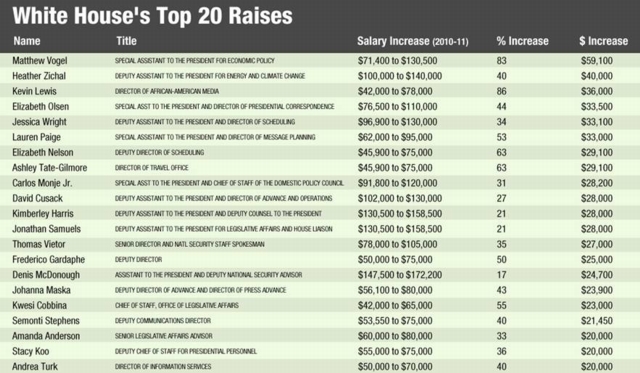 HMMM…UP TO 86% RAISES IN SALARY FOR OBAMA'S WHITE HOUSE STAFF MEMBERS!!
NO WONDER WE CAN'T HAVE A COST OF LIVING INCREASE & HE WANTS TO NOW RAISE OUR TAXES!!
SOUNDS LIKE THE OBAMA ADMINISTRATION IS REALLY LOOKING OUT FOR THE TAXPAYERS DOESN'T IT? NOT!!
PASS THIS ON TO ALL YOUR FRIENDS AND RELATIVES!