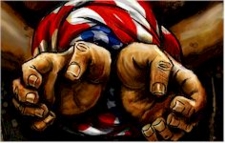 I almost certain that at some point in your life you have heard someone say "That's against the law" but has it ever crossed your mind to ask where the power of enacting laws comes from, and for what purpose it is supposed to serve? I don't know about you, but that question has been weighing heavily upon my mind for quite some time now.
In doing the research for this article I came across a quote I'd like to share. In an address at Harvard University on September 8, 1836 Judge Joseph Story said, "No one appreciates more fully than myself the general importance of the study of the law. No one places a higher value upon that science as the great instrument by which society is held together and the cause of public justice is maintained and vindicated. Without it, neither liberty, nor property, nor life, nor that which is even dearer than life, a good reputation, is for a moment secure."
Samuel Adams once declared "The natural liberty of man is to be free from any superior power on Earth, and not to be under the will or legislative authority of man, but only to have the law of nature for his rule."
Our Declaration of Independence states that "…all men are created equal…" Therefore if what Adams said was true, that all men are to be free from the legislative authority of man, how is it that a group of men may pass laws which limit our rights or take the fruits of our labors to give to others who are less fortunate?
The other day I had the rare opportunity to speak to a man running for the position of superior court judge on this matter. He had dropped by my home asking if I'd allow him to place a sign in my yard supporting him. I told him that I'd first have to study his positions on the issues before making a decision.
After reading the flyer he gave me I decided I would like his answer to a question. So on his Facebook page I sent him a message asking, "Why is it that if the Second Amendment applies equally to all, that some states, such as California, may pass laws prohibiting the possession of certain type firearms when in neighboring states those same weapons are perfectly legal?"
He responded by sending me his cell phone number, suggesting I call him so he could explain the matter in greater detail than Facebook would allow. So I did. I am paraphrasing now, but his basic premise was that in the case of D.C. v Heller the Supreme Court had left it up to the states to determine what is in their best interests regarding what type guns they will allow their citizens to possess.
We ended up talking about 20 minutes, with me arguing my position, and he arguing from a legal standpoint. He mentioned that is was nice to find someone who was, so obviously well read, but that he and I do not see eye to eye on the matter. But I did learn one thing that I was not aware of, when the Supreme Court takes on a case they argue it on the narrowest possible scope. For instance, in D.C. v Heller they only argued as to whether the Second Amendment applied to an individual's right to own firearms, or whether it was associated with service in the militia.
I then asked if a person wanted to have a state law revoked, which infringes upon my right to own a prohibited firearm I would first have to buy, and then be arrested and convicted for possession of that firearm. I would then have to appeal and appeal until hopefully the Supreme Court took, and then ruled favorably upon the matter. He agreed, but suggested it would not be a wise course of action.
Although the purpose of laws has been on my mind for a while now, it was only after my conversation with the candidate for judge that I decided to begin researching for this article. What follows are some of the things I discovered with my own thoughts tossed in for good measure.
In his Novanglus Essay No. 7, John Adams wrote "A government of laws, and not of men." But what is law, what is its purpose, and what happens when those empowered to make and uphold the law either abuse it, or adopt unconstitutional laws?"
That, my friends, is the question we should all be asking ourselves. When a law is passed, be it at the federal, state, or local level, it affects each and every one of us. By passing that law government somehow limits our freedom by imposing restrictions on our ability to do certain things, making the violation of that law a criminal act.
Our founders realized that to form our system of government we would have to cede some of our sovereignty to the newly created government. They therefore put limits upon the power of the federal government, and included a Bill of Rights to place certain rights out of the reach of governmental interference.
John Locke once said, "The end of law is not to abolish or restrain, but to preserve and enlarge freedom." Can you honestly say that with all these laws regulating and controlling your life that you are freer than you would have been without them?
In the Supreme Court case of West Virginia Board of Education vs. Barnette, Justice Robert Jackson stated, "The very purpose of a Bill of Rights was to withdraw certain subjects from the vicissitudes of political controversy, to place them beyind the reach of majorities and officials and to establish them as legal principles to be applied by the courts. One's right to life, liberty and property, to free speech, a free press, freedom of worship and assembly, and other fundamental rights may not be submitted to vote; they depend upon the outcome of no elections."
To carry that one step further, Justice Hugo Black once said, "It is my belief that there are 'absolutes' in our Bill of Rights, and that they were put there on purpose by men who knew what the words meant and meant their prohibitions to be 'absolutes.'"
In the Supreme Court's ruling on Ex Parte Grossman, they state, "The language of the Constitution cannot be interpreted safely, except where reference to common law and to British institutions as they were when the instrument was framed and adopted. The statesmen and lawyers of the convention who submitted it to the ratification of conventions of the thirteen states, were born and brought up in the atmosphere of the common law and thought and spoke in its vocabulary…when they came to put their conclusions into the form of fundamental law in a compact draft, they expressed them in terms of common law, confident that they could be shortly and easily understood."
In his Commentaries on the Laws of England, Sir William Blackstone states, "This law of nature, being coeval with mankind and dictated by God himself, is of course superior in obligation to any other-It is binding over all the globe in all countries, and at all times; no human laws are of any validity, if contrary to this: and such of them as are valid derive all their force, and all their authority, mediately or immediately, from this original."
In 1850 Frederic Bastiat wrote a short book entitled The Law, from which we find, "What, then, is law? It is the collective organization of the individual right to lawful defense. Each of us has a natural right—from God—to defend his person, his liberty, and his property. These are the three basic requirements of life, and the preservation of any one of them is completely dependent upon the preservation of the other two…If every person has the right to defend—even by force—his person, his liberty, and his property, then it follows that a group of men have the right to organize and support a common force to protect those rights constantly ."
Bastiat goes on to say, "We must remember that law is force, and that, consequently, the proper functions of the law cannot lawfully extend beyond the proper functions of force. When law and force keep a person within the bounds of justice, they impose nothing but a mere negation. They oblige him only to abstain from harming others. They violate neither his personality, his liberty, nor his property. They safeguard all of these. They are defensive; they defend equally the rights of all."
Our system of government, and remember this, we are not a democracy where the majority rules, we elect men and women to office to represent us within the limits imposed upon them by the Constitution and the Bill of Rights. We the people are still the sovereigns.
In the case of Yick Wo v. Hopkins the Supreme Court stated, "Sovereignty itself is, of course, not subject to law, for it is the author and source of law; but in our system, while sovereign powers are delegated to the agencies of government, sovereignty itself remains with the people, by whom and for whom all government exists and acts."
Read that as many times as you must for it to sink in, but it is of the utmost importance that you understand that principle, we are the boss, and our government has absolutely no legal authority to enact laws which violate any of our rights.
I talk much about tyranny and oppression by our government, but there is something I'd like for you to consider. The famous French philosopher Montesquieu once said, "There is no crueler tyranny than that which is perpetuated under the shield of law and in the name of justice."
Yet because we do not understand the purpose for which our legislators were granted the authority to enact law, in short, because we have become ignorant, we tolerate laws which violate and infringe upon all our rights.
In the case of U.S. vs. Minker, page 187, the Court stated, "Because of what appears to be a lawful command on the surface, many citizens, because of their respect for what only appears to be a law, are cunningly coerced into waiving their rights, due to ignorance."
In a 1911 edition of the North American Review, former Supreme Court Justice Horace H. Lurton stated, "The contention that…the Constitution is to be disregarded if it stands in the way of that which is deemed of the public advantage…is destructive of the whole theory upon which our American Commonwealths have been founded."
In his dissenting argument on the case of Poulos v. New Hampshire, Justice William O. Douglas stated, "When a legislature undertakes to proscribe the exercise of a citizen's constitutional right to free speech, it acts lawlessly; and the citizen can take matters in his own hands and proceed on the basis that such a law is no law at all."
Ever since 9/11 our government has enacted laws designed to protect us from terrorism. Remember, Justice Lurton said, that even though it may be deemed in the public interest it is destructive of the theory upon which this country was built.
James Madison once warned "If Tyranny and Oppression come to this land, it will be in the guise of fighting a foreign enemy." Furthermore, Thomas Jefferson said, "Single acts of tyranny may be ascribed to the accidental opinion of the day; but a series of oppressions, begun at a distinguished period, and pursued unalterably through every change of ministers (administrators) too plainly proves a deliberate, systematic plan of reducing us to slavery."
Now consider the words of William Douglas from the case of Osborn v. United States, "These examples and many others demonstrate an alarming trend whereby the privacy and dignity of our citizens is being whittled away by sometimes imperceptible steps. Taken individually, each step may be of little consequence. But when viewed as a whole, there begins to emerge a society quite unlike any we have seen — a society in which government may intrude into the secret regions of man's life at will."
It would behoove us all to make the effort to understand the purpose for which our government was instituted, and the purpose for which laws were to be enacted…that is if you even remotely value your freedom.
I for one, take Justice Potter Stewart's words seriously, "The right to defy an unconstitutional statute is basic in our scheme. Even when an ordinance requires a permit to make a speech, to deliver a sermon, to picket, to parade, or to assemble, it need not be honored when it's invalid on its face."
But then again, as Voltaire once said, "It is dangerous to be right in matters on which the established authorities are wrong."
April 21, 2012
~ The Author ~

Neal Ross can be reached for comments at bonsai@syix.com.
If you wish to comment, please go to Neal's blog so that others may partake of your wit and your wisdom as well… http://www.zombie-slayer.com/neal